This article was originally published on
24/7Mirror
A wedding is supposed to be one of the most beautiful and memorable days of a person's life and they usually are just that. But sometimes they are unforgettable for all the wrong reasons. Weddings can bring out the worst of guests, bridesmaids, family members, and the bride and groom themselves. These are some of the craziest stories of epic weddings that were unforgettable for all the wrong reasons. Be warned, these stories will surely you leave cringing and maybe even dreading the possibility of going to a wedding anytime in the future. 
You Had One Job - Not to Wear White
One of the most universal and the simplest dress code requirements for a wedding is not to wear white. No one should outshine the bride on her special day. Instead of staying away from this one color, this woman (who is not the bride) decided to wear a long and beautiful white dress. Although no one can argue that she looks stunning in this gown, most people almost certainly mistook her for the bride at first glance.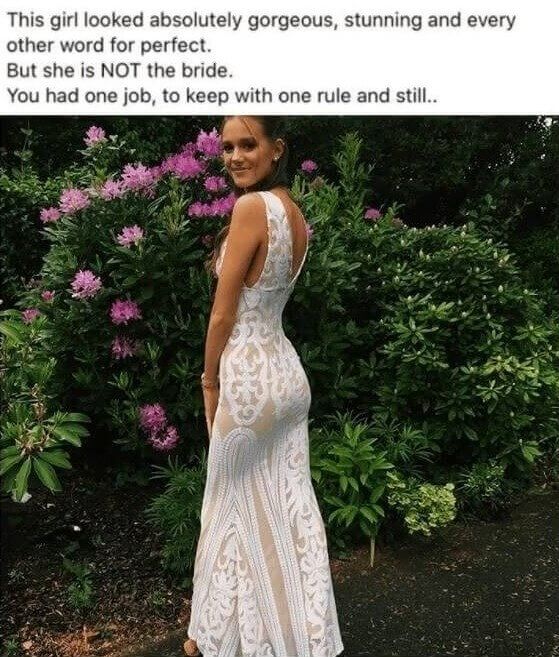 This is too much to just be an honest mistake as the dress even looks like it could be an actual wedding dress itself! 
The Challenge of Finding and Keeping Bridesmaids
Although finding the perfect team of people to be bridesmaids can be a bit of a challenge, this woman seems to be having some extra difficulties. With only 44 days until her wedding, she is again stuck without a bridesmaid after having to kick out two bridesmaids and having one who tragically passed away. How stressful can her wedding planning be that she has already had to remove multiple bridesmaids from the party? 
Despite the challenges, she doesn't seem to be having too much of a problem finding replacements. Hopefully, her wedding will go smoothly even with all the rotations. 
An Unbelievable Request From the Bride
Being a bridesmaid comes with its challenges and responsibilities. You are supposed to be there for the bride to support and help her with her every need. However, some brides take their requests a little bit too far. This bride not only asked ALL of her bridesmaids to cut their hair to the exact same length, but she also had the audacity to demand that they all dye it to the same color as well.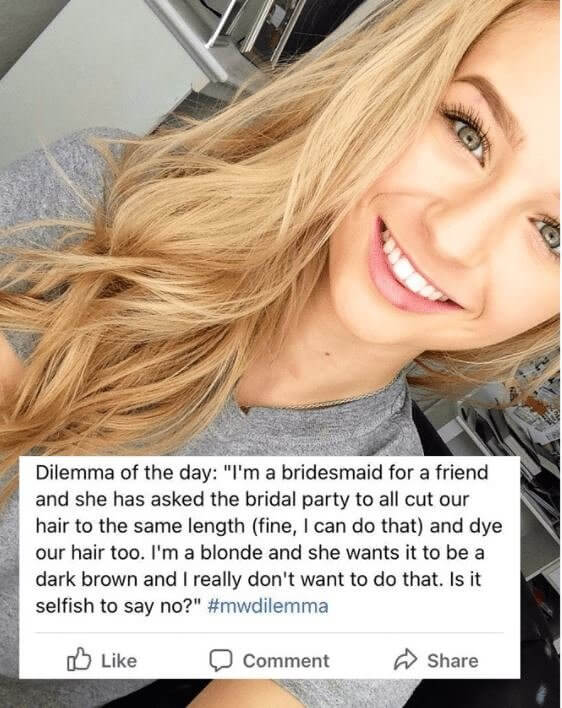 Perhaps the craziest part of this all is that this bridesmaid seemed to think that this request was actually acceptable. She was more than ready to cut her hair and only considered the request too much when it involved dying as well. 
Apparently It Was Not a Good Enough Excuse
Covid caused many things to change all around the world. One of the hardest-hit sectors was the world of weddings. People were canceling, postponing, or severely changing their plans left and right. This bride however decided to continue on with her wedding plans like normal or with some additional precautions. Since it was such a crazy time, you'd think that people would be understanding if guests decided not to attend because of safety concerns.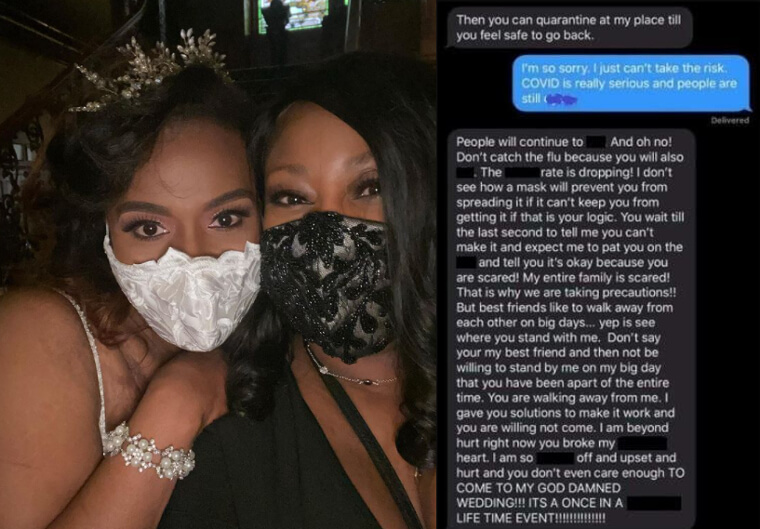 This bride was not so understanding when her best friend decided not to attend her wedding. Although it is certainly some devastating news, she did have a pretty understandable reason. 
The Wedding Planner Took It All
Although this also qualifies as a wedding disaster, it is more on the tragic side. This couple trusted one of their long-term friends (14 years of friendship) with the task of planning their wedding. For months they thought everything was going according to plan until they realized that this man, who was also the godfather to their son, actually was just stealing thousands of dollars from them instead of planning the wedding.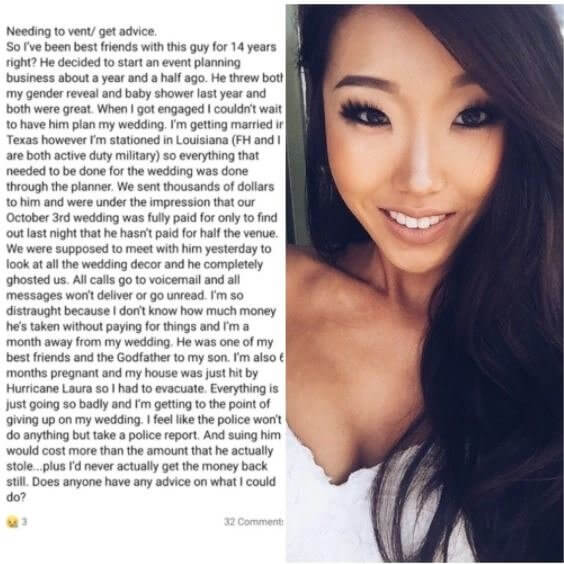 This man just stole the money and disappeared. It would be a tragic story even without a wedding involved, but this couple really seems to be struggling to put this wedding together with long work hours, and this man just made things 10 times more difficult. 
No Children or Babies Allowed
It's pretty common for people to have a no children policy at a wedding. Besides having to cater to an entirely different group of people, they can cause lots of extra stress to the guests attending with their unpredictability. This bride took her concerns and her rules to an entirely new level. One of her bridesmaids (and best friends) found out that she was pregnant and possibly would give birth before the wedding day.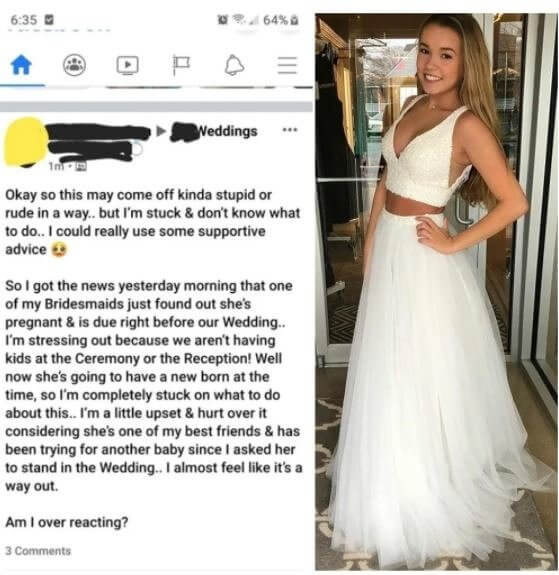 Instead of being happy for her friend (who was struggling to conceive for a long time) she thought that the whole thing was some big sabotage attempt against her and her entire wedding. 
This Wedding Was a Bit Too Memorable
Just about everyone wants a memorable wedding. Although people usually look for that in the form of beautiful and special memories, some people take it to another level. Instead of the normal walk down the aisle, this couple decided to have all the members of their wedding party pretend to be shot and killed like deer and then dragged into the venue by hunters. It seems like this wedding will be remembered for all the wrong reasons.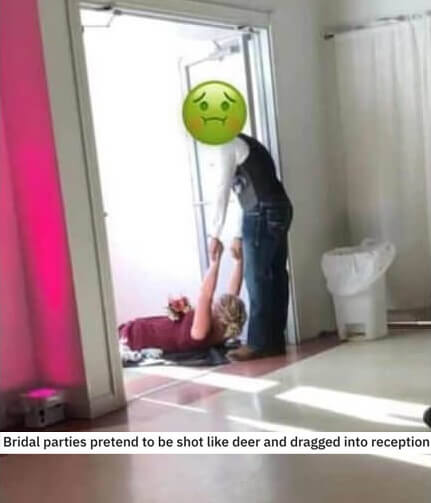 What message were the bride and groom trying to portray with this strange stunt? And why on earth did the entire wedding party agree to participate in this weird performance? 
One Very Entitled Bride to Be
Everyone can admit that a wedding is a very big and important day. But some people take that just a little bit too far. This bride-to-be was so stressed with the wedding planning that she quit her job to be a full-time wedding planner (for herself). That's all fine until she then demanded from her fiancee to pick up a second job to replace her lack of income.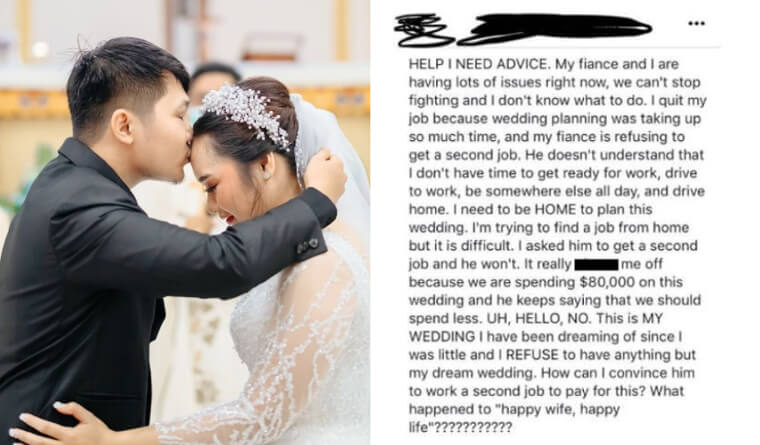 This woman is so entitled that she can't even imagine her husband having the audacity to refuse to pick up a second job just to pay for her extravagant wedding choices. She even says that this is HER big day (not both of theirs), almost leaving her fiancee out of it entirely.
No Face Masks in Videos or Pictures
No one really wants an entire series of wedding photos and videos where the guests are wearing face masks. It's certainly much nicer to see smiling faces and expressions beyond the eyes. And yet, these are some crazy times, and face masks are a part of life now, for better or for worse. This bride-to-be, however, is adamant about not having her guests wear face masks and is looking for a way to inform them.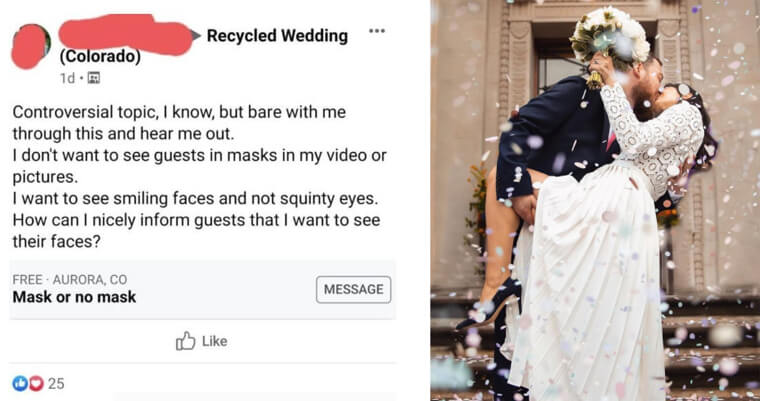 The way she phrased her request is a bit strange. She could have just said that she doesn't want guests to wear a face mask rather than wanting to tell them that she "wants to see their faces". 
One Confused Flower Girl
Everyone loves the tradition of having your niece or cousin or even little sister take part in your wedding. This four-year-old girl was so excited about her role in walking down the aisle and scattering it with beautiful petals. However, she was a little confused about the whole purpose of the event, it seems, as she walked down the aisle while singing the happy birthday song the entire time.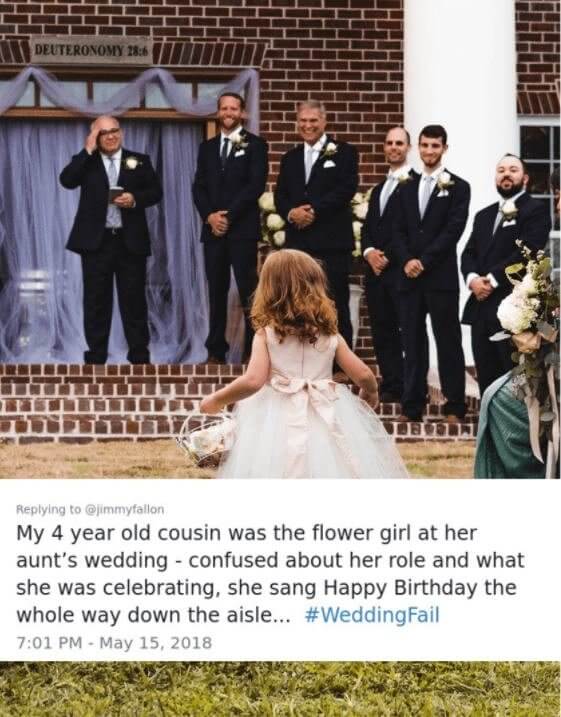 Although this is certainly a bit of a wedding fail, it is a sweet one and a precious memory for everyone involved. 
Drama in the Bridal Party
Drama between the members of the bridal party is almost inevitable. Whether there are bridesmaids that don't get along or groomsmen with clashing personalities, it's never a surprise. But imagine the horror of your best man admitting to cheating on the maid of honor. Although most people would rather get a new best man, this couple had to switch out their maid of honor since the best man was hosting the entire wedding at his house.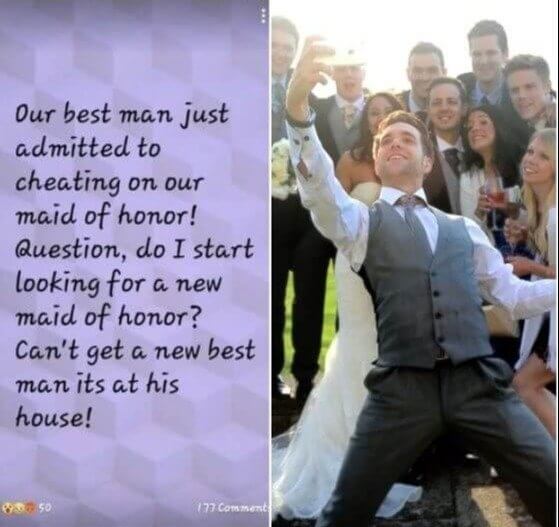 The poor maid of honor not only found out that her boyfriend was cheating on her, but she also was about to be removed from the wedding as a result! 
Apparently Appearances Are All That Matter
Choosing a maid of honor is a pretty major decision when it comes to wedding planning. But rather than being excited that her friend could possibly be her maid of honor, this lady could not stop focusing on her appearance. Apparently, she has a cavity in her front teeth, which this bride-to-be is concerned will ruin the beauty of her wedding photos. Such a sad and shallow perspective.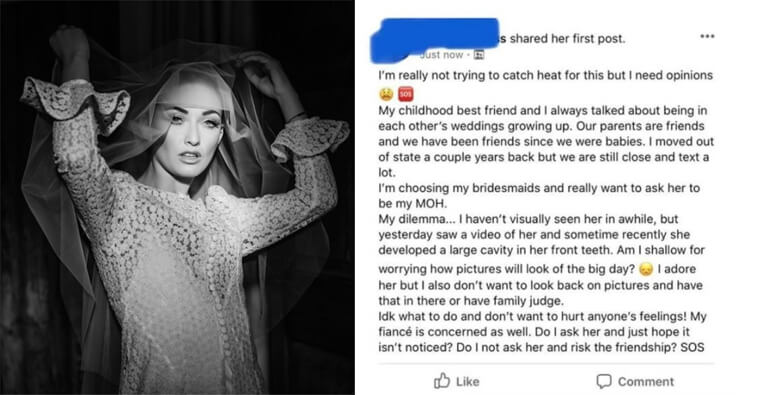 What may be worse than this woman's shallow perspective is the fact that her fiancee agrees with her. And even more so, that her major concern is that friends and family will judge them because her maid of honor has a cosmetic "flaw". 
A Pun Gone Terribly Wrong
Engagement announcements are a pretty big deal. Some couples are content enough with simply sharing a simple photo of a newly-ringed hand, while others opt for a more creative way to share the news. It looks like some people need to be a little more careful with their spelling. Instead of the cute and quirky idea of saying "he popped the question" attached to a bag of popcorn, this couple accidentally sent out a very different message.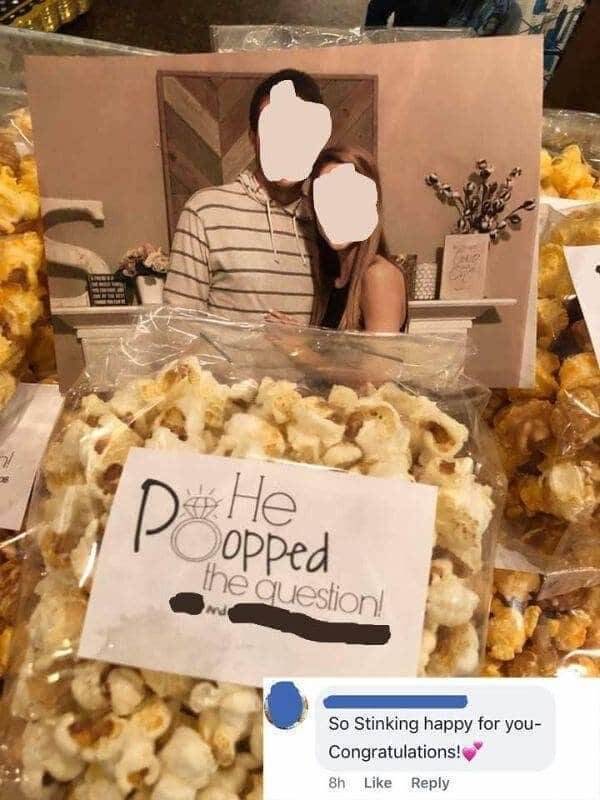 One of their friends was far too eager to continue to pun fun by commenting that they are "so stinking happy for you- congratulations".
DIY Men's Urinal for Sale
Come one come all, a top-notch, handmade men's urinal is for sale....only used for one event. Despite how "tempting" this offer may seem, to spend $150 on a DIY men's urinal, that has been used before, it would be surprising if they had any takers. Besides being downright unsanitary, it also appears to be quite poorly made. A few slabs of wood with a painted sign saying "Men's" is not quite worth the cost.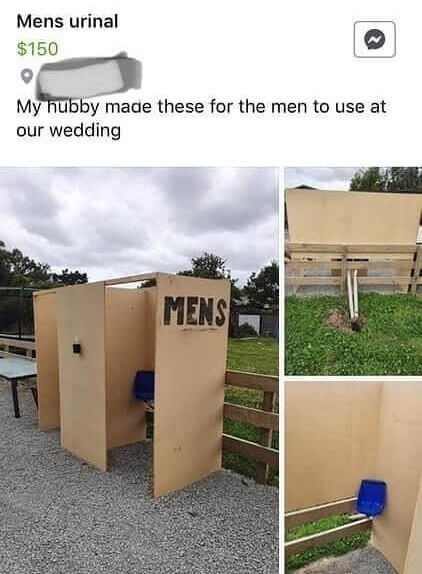 Buying second-hand is usually a great idea, but there are some things that simply should not be reused. A hodge-podge men's urinal would certainly fall in the latter category. 
No Mask or Bust
The mandate to wear facemasks has caused quite a stir in some communities. Many people are less than thrilled to be required to wear them in crowded spaces and some people refuse to wear them at all. This guest informed the bride that one member of her family refused to wear a facemask under any circumstance and as a result, they probably wouldn't be able to attend the wedding,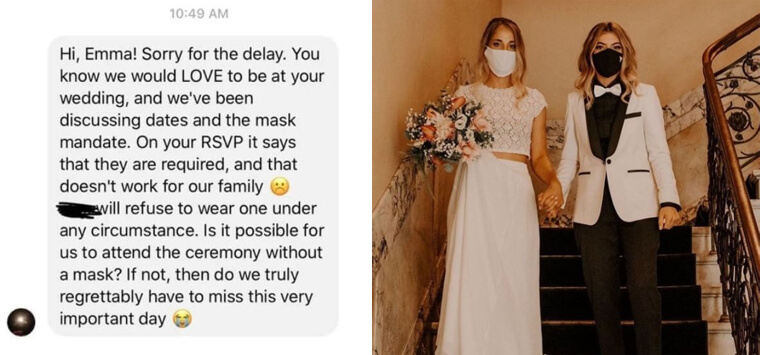 At least they phrased it nicely and didn't demand from the bride to make an exception for them to attend the wedding without the need to wear a mask. 
Corona Comfort Level Guide
The couples who continued on with their wedding plans during the tumultuous covid phase should certainly be commended for dealing with all the difficulties surrounding it. As people have many different levels of comfort surrounding social gatherings, this couple came up with a genius plan to keep everyone happy. Color-coordinated wristbands helped to explain each person's comfort level for how people should interact with them.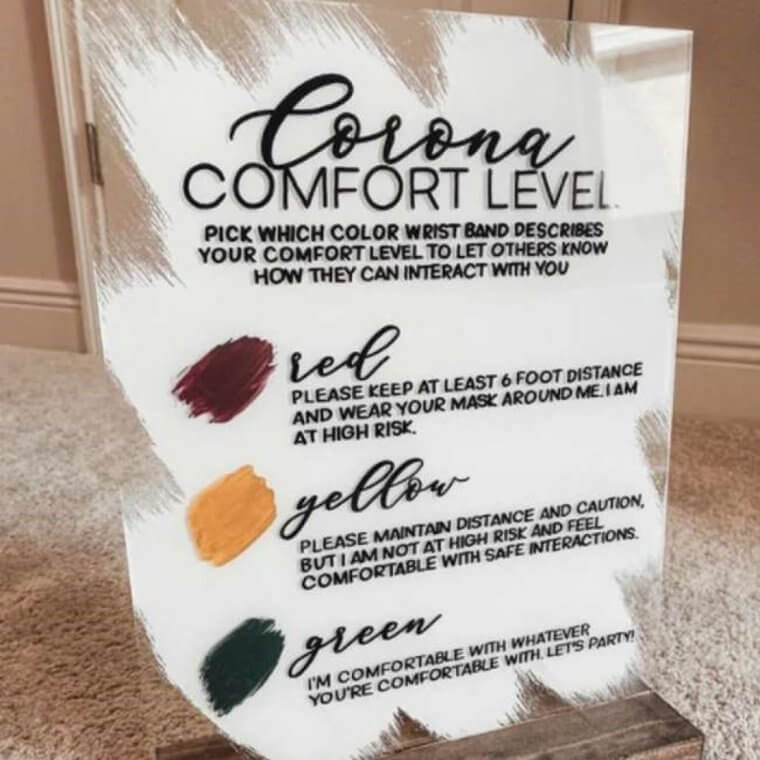 This is honestly a great idea for social interactions in general. So many people are uncomfortable giving hugs or shaking hands in general. Maybe this is something that should be adopted long after the pandemic days. 
The Toilet Paper Cake With Face Masks
This couple chose to get married during a very tumultuous time in history. Instead of letting it get them down, they decided to make a joke about it. Their cake was made in the shape of a roll of toilet paper and their bride and groom toppers were bedecked in face masks. It would be difficult to find a more perfect tribute to these crazy times.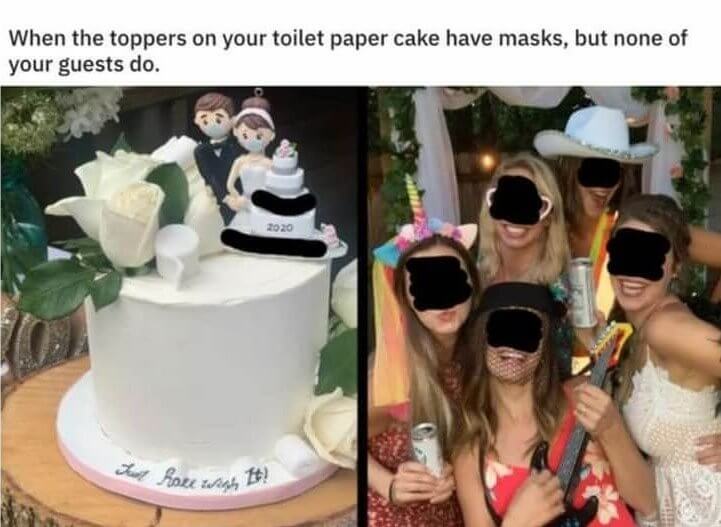 The irony of the entire situation is that not a single one of the wedding's actual guests were seen wearing a facemask during the entire ceremony and party. 
The Search to Find a Venue
Finding a venue that was willing and legally able to host a big event proved to be quite a challenge during some stages of the pandemic. Wedding planners searched for possible ways to get around the restrictions. While some were simply going to switch to a new venue, others were willing to go to an entirely different state just to find a big enough place.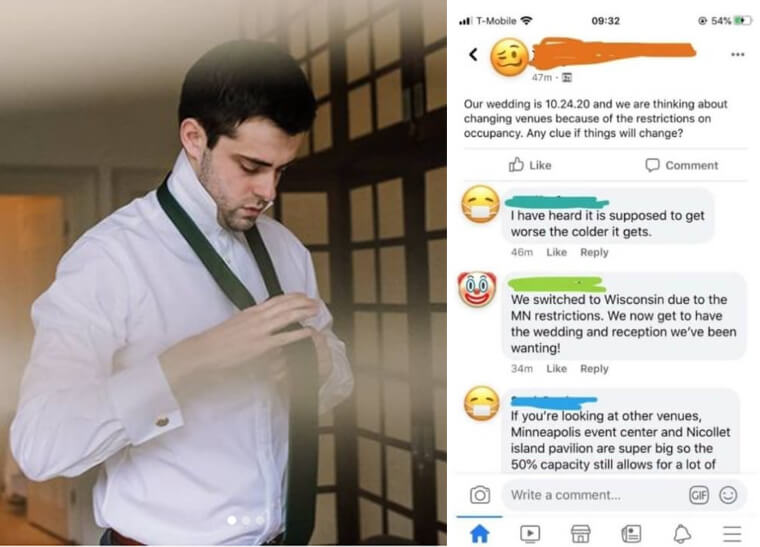 Some people are determined to have a big wedding, even despite the challenges and restrictions because of Covid. However, people seemed to always find a way to get what they wanted. 
A Very Awkward Wedding Speech
Everyone has seen the videos of awkward wedding speeches, where the bride and groom get roasted by the speech giver. But who would ever imagine that a family member would be so cruel as to have a solid five-minute speech ranting about the bride's ex-boyfriend and how horrible and toxic their relationship was. Despite his probable good intentions to exemplify how great her husband was comparably, it certainly would make for a cringy few minutes.
Bringing up the exes is hardly an acceptable practice at a wedding, especially when it comes to the official speech in front of all the guests. 
She Tried to Bring Her Cats to the Wedding
Most of the horror stories surrounding weddings are usually centered around the bride and groom. There's a lot of stress involved with this big day, sometimes bringing out the worst in people. But this time it was a guest who went a little crazy. She not only expected to be able to bring her cats along with her to the wedding, but she went as far as requesting specific flowers that wouldn't cause her cats to have an allergic reaction.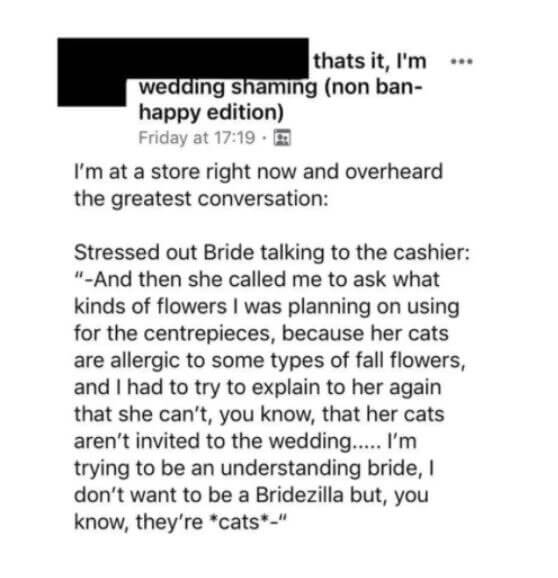 Although some people do think it's necessary to include their own pets in their wedding, most guests wouldn't go so far as to expect to be able to bring their pets with them. 
When God Calls
Depending on the level of religious observance the couple is looking for in a wedding, you may see some interesting things as a wedding guest. One man attended a particularly interesting wedding where the minister's cell phone started to ring in the middle of the service. Who was it who had the audacity to call in the middle of the ceremony? It was God...apparently, God called and wanted to have a conversation with the groom before the nuptials were official. 
The conversation even lasted a good few minutes with the groom. Seems like God had quite a few things to say about the upcoming marriage. And no, this was not meant to be a joke. 
The Live Wedding Portrait
There are so many unique and memorable possible ideas for a wedding. It's usually just a matter of finding what is in your budget. This couple loved the idea of having a live painting done of them during the ceremony, but they weren't really willing to pay for it. Everyone seemed to think $1000 was an absurdly high price even though it is incredibly inexpensive considering the time, effort, and work involved in such an endeavor.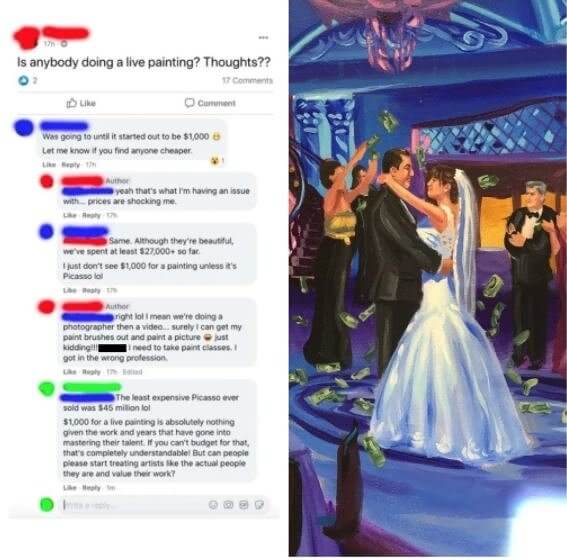 People are always more than eager to devalue what artists do. After all, if you're not an artist it's hard to understand the difficulty of the work. At least there was one user who was able to put them in their place. 
A Little Too Friendly
Exes are rarely invited to a wedding unless it's a very unique circumstance. Have you ever heard of not only the ex being invited to the wedding, but actually being the one to officiate it? Well, this bride actually used to date the minister of her wedding and it seems like he was still in love with her long after they broke up and even raved about how wonderful the woman was.  
He even went so far as to tell the groom not to worry if anything happened to him in the future. He would be there to take care of his bride. 
Doesn't Look Like True Love
A wedding is supposed to be an outward display of how much love is between two people. The couple vows to spend the rest of their lives together. It must have been truly sad to see a bride get so drunk at her own wedding that she went to go sit on another man's lap for two hours and flirt obnoxiously with him. Must have been quite a blow for the new husband. 
It doesn't seem like a particularly great way to start a marriage and the husband definitely must have been left rethinking many of his life decisions. 
The Cringeworthy Acappella Performance
A cappella performances are a risky endeavor, especially when the singers are not particularly talented. Imagine sitting through a live acapella performance from the groom and his groomsmen of their own version of Stand By Me. There are few things that could be more cringeworthy. But in case you didn't think it could get any worse, imagine the groom directed the song not to his new bride, but to his mother. 
Note to self, do not sing a cringy acapella song to your entire wedding party and then accidentally direct the romantic and heartwarming lyrics to the wrong person. 
Wedding Fails Run in the Family
Some people are overflowing with memories of terrible wedding experiences. When this man was asked to tell of his worst experiences, two were so bad that they both tied for first place. The first was when his sister broke her knee in a reckless dance of Cotton Eyed Joe during her own wedding. The second was that his sister had her wedding at a truck stop while she was six months pregnant. 
If there's one thing this man can claim it's that his family certainly knows how to ensure a memorable wedding...for better or for worse. 
Twenty Minutes of Terrible Music
Unique and individual vows are a beautiful aspect of a wedding. Until people take it one step too far. This couple wrote out and memorized an entire song version of their vows to sing to each other at the altar. It was even complete with a chorus that they expected the guests to join in and sing along to. Just when you thought it couldn't get any worse, imagine that neither part of this pair had a singing voice at all. 
Can you ever imagine singing your wedding vows in front of an entire room of people for over twenty minutes? 
An Overly Patriotic Wedding
The national anthem is probably not the first song that you would expect to hear at a wedding. However, that was exactly what this couple chose to do. Right at the beginning of the reception, they had all the guests stand up and sing along to the national anthem. Granted this wedding did not take place in the United States and the bride and groom were somehow under the impression that this was a local custom in the country they were getting married. 
Sadly this couple was mistaken and this was not a custom at all. On the contrary, all the local guests thought it was quite strange. 
Terrible Music and Terrible Timing
What could be worse than a wedding whose base soundtrack was the theme of Braveheart (blasted a bit too loudly on a boom box)? Imagine that combined with a civil service that lasted only a few awkward minutes, finishing around 1:15 pm. And when does the reception start? 5:30 pm...and the event hall is locked to guests until that exact time. Looks like someone did not do their job properly in the planning department. 
It would be interesting to know what the guests did for those few awkward hours in between the short service and the opening of the reception.
Thanos Showed up to the Wedding
Although most weddings are a pretty fancy affair, requiring guests to dress up in their best clothes, it looks like this guest had a different plan and he showed up dressed as Thanos himself. Sitting in the back corner, he doesn't look too happy to be there. Maybe he mixed up the days for the events during the weekend or perhaps it is part of an elaborate scheme, coordinated with the bride and groom themselves.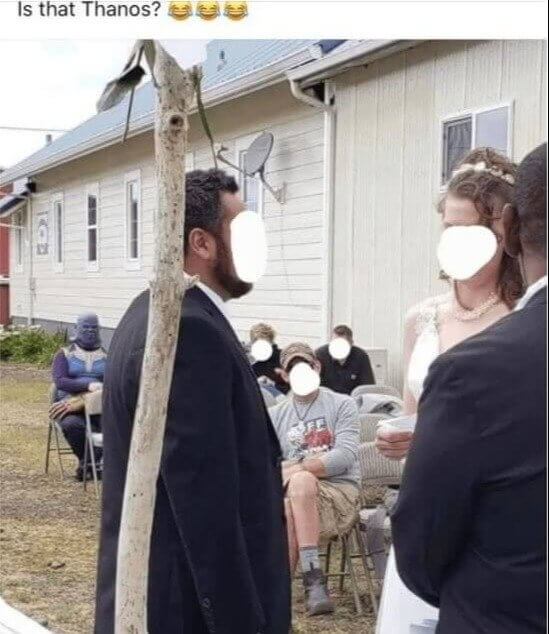 Everyone seems to be quite casually dressed in this backyard wedding, but coming as Thanos is taking the casual dress code to an entirely new level. 
Beautiful Lace Bridal Face Masks
If you have to wear a mask to your wedding, it might as well be a beautiful one and not one of the disposable blue or black ones. It has to make the aesthetic of the wedding and ideally should be white or cream. For just around $60 you can buy a fancy lace face mask for your wedding day. Although it is quite expensive for just a one-time wear, they are quite beautiful.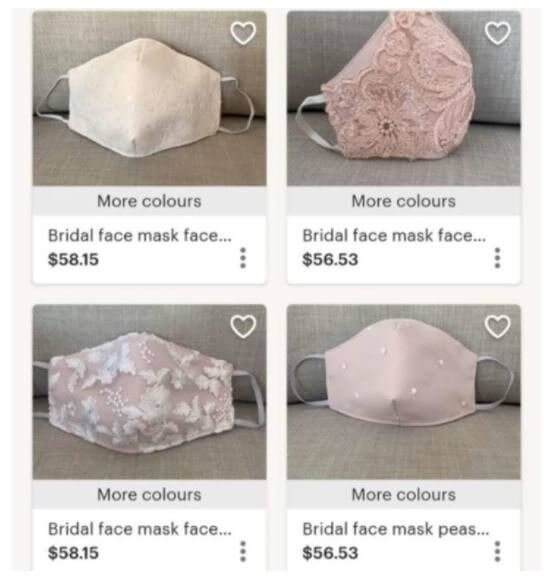 It is a very small amount of fabric for sure, but the lace and beaded materials are challenging to sew with, so perhaps there is a method behind their madness of high prices. 
Potluck Reception Gone Wrong
Potluck receptions can actually be quite fun, with a cozy and quaint vibe and yummy homemade food. Alcohol-free weddings are also a unique and fun treat, almost like a relaxed garden party. But this potluck and alcohol-free wedding was not executed properly in the least. The groom didn't help matters when he pulled out an alcohol flask proudly in front of all of his guests. 
Why even make it alcohol-free if the groom himself is going to be obviously drinking in front of everyone? We wonder.
Facebook Event Invite Fails
Some people like to save money on creating and mailing out individual invites to all of their potential wedding guests. What do they choose to do instead? They send out a bulk invite to all of their Facebook friends, genuinely expecting them to attend. Even worse is that some people just make a generic, open event on Facebook and truly think people will remember and take it seriously enough to show up. 
Perhaps the saddest part of all is that one of these couples even got seriously offended when only a few guests showed up at their wedding. They simply couldn't understand why the Facebook method didn't work. 
Walking Down the Aisle With a Song
Singing is a beautiful and touching way to commemorate a wedding. This bride decided to sing along to a Carrie Underwood song as she walked down the aisle to her husband-to-be. The song was playing loudly in the background and the guests could hear the original soundtrack (perhaps for the best as the bride was not the best singer). Sadly though it only took her about half of the song to complete her walk to the altar. 
What did the bride do as the song continued? She stood across from her groom and sang the rest of the entire song while the guests awkwardly watched. 
The Overly Edited Soundtrack
There once was a wedding between two people with very interesting and different tastes in music. The bride's family was extremely conservative. They were so conservative that they created super edited versions of all the songs on the wedding soundtrack the DJ played. What was the funniest song that they demanded be edited? They bleeped out the word "shots" from the song Shots by LMFAO. 
At that point maybe they should have just considered an entirely instrumental playlist for the entirety of the wedding.