There are many mysteries of the world, but none as puzzling as the change that some brides-to-be undergo in the run-up to their big day. As soon as they start planning their wedding, these formerly sensible women can turn into demanding divas. Scroll down to see how these ladies request expensive gifts or cold hard cash, ask professional photographers, florists, and DJs to work for free, all the while being gloriously unaware they have become... Bridezillas!
This Bride Only Has One Simple Request
This bride's free photographer had the nerve to pull out of a wedding because she was about to have a baby. So, the bride took to social media to look for another free photographer in Ottowa. Now, Canadians are generally known for their politeness, saying sorry, and being all-round nice people. However, this entitled bride still expected a trained photographer to chronicle her wedding in return for zero of her hard-earned Canadian dollars. 
Already showing her frustration with her previous free photographer, we don't think she had much luck finding another. Especially judging from that first sarcastic comment!
Must Be Willing to Job for Free
This request for a free wedding photographer sums up the entitlement inherent in today's selfie-obsessed wedding world. Not only should the photographer come with eight years experience, but they should also bring their own lunch and expect no breaks! If someone asks you to work for nothing, take some free advice from the world's best role model... Heath Ledger's Joker in The Dark Knight, who said, "If you're good at something, never do it for free."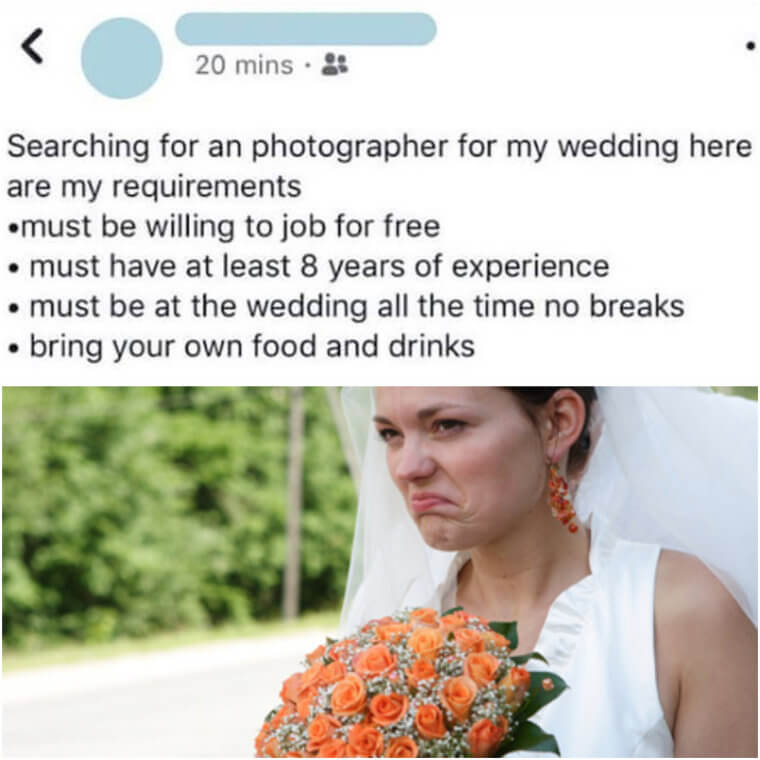 Do you think this Bridezilla was successful in finding some poor photographer to snap their wedding photos for free? We wonder.
This Bride's Rant Would Be Hilarious If It Weren't So Crazy
When only a handful of people signed up to fly to the other side of the world for this bride's wedding, she rearranged her big day so people would only have to fly to Hawaii! Then, she goes on a massive rant, saying people have three days to RSVP, and if they don't, she will cut them out of her life. We wonder how that ended up working out for her.
If you're one of the lucky ones this person deleted from Facebook and her other social media accounts, it sounds as if she's done y'all a favor! 
Shameless Self-Promotion
We get that weddings cost a small fortune, but that's why you've got to plan, save, and compromise. Blushing bride-to-be Haley was so set on her dream wedding, she had her wedding car decorated in a highly unusual way. Yes, even on her big day, she was trying to get random passers-by to pay for her wedding via crowdsourcing by boldly displaying her Venmo user name painted on her carriage!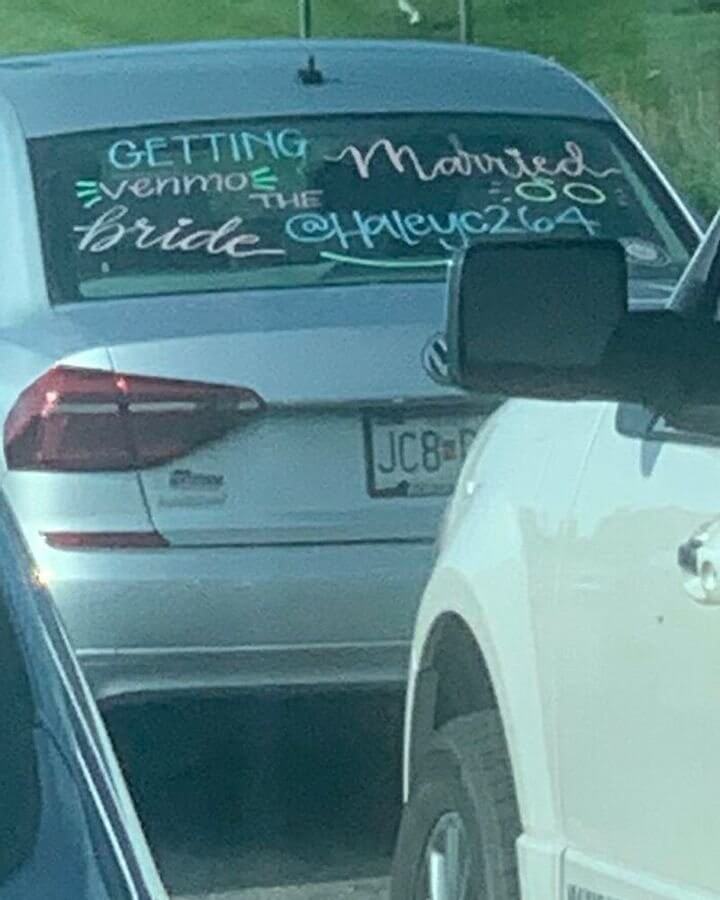 We wonder if anyone actually saw this and thought "sure, why not fund a total stranger's expensive big day?"
That's an Oddly Specific Demand
Long story short, this bride-to-be was such a control freak that she insisted all her bridesmaids be exactly 5'10" tall. No taller, no shorter. And yes, that stipulation included her friend, who was actually 5'3". The first suggestion was for her friend to attend the ceremony in seven-inch heels! We don't know how the issue was resolved; perhaps her friend bought some stilts and learned to walk in them. 
Or maybe, this bridesmaid could have made the ultimate sacrifice and been stretched to the more pleasing correct height of 5'10" on a medieval torture rack? 
Take Your Own Wedding Pictures
Every bride wants a quality wedding album to remember their big day, but this woman thought the very reasonable day rate of $250 was "Omgggg" expensive and told the photographer she would rather use her iPhone! Imagining her sitting down to see the results raises a chuckle. Out-of-focus, over-exposed shots of the bride and groom, cropped group shots, bleeding colors, and blurry pictures of the bouquet flying through the air!
The photographer handled this bride in the perfect way. By telling her they know their worth, then completely ghosting her!
The Definition Of Entitlement
We think this is definition of entitlement. Over-entitled Bridezillas may offer less money or ask a professional to provide their services for free. But this had such nerve that she expected the photographer to pay her for the honor of chronicling her big day. She wanted the photographer to pay her $100! As they state in their social media post, this is really a whole other level of bananas.
There is actually a moral to this story. And that moral is... When planning your wedding, you better keep your ego in check. 
Bribe And Groom
This bride will do anything for your money, including bribery. Ideally, she would like to raise $30,000, so she and her new hubby can spend a month traveling, bar hopping, and swinging around Europe! Then she offers a plethora of 'prizes' in return for donations. We half expected the last entry to read "For gifts of $10,000+, you can join us at the altar and help us tie the knot!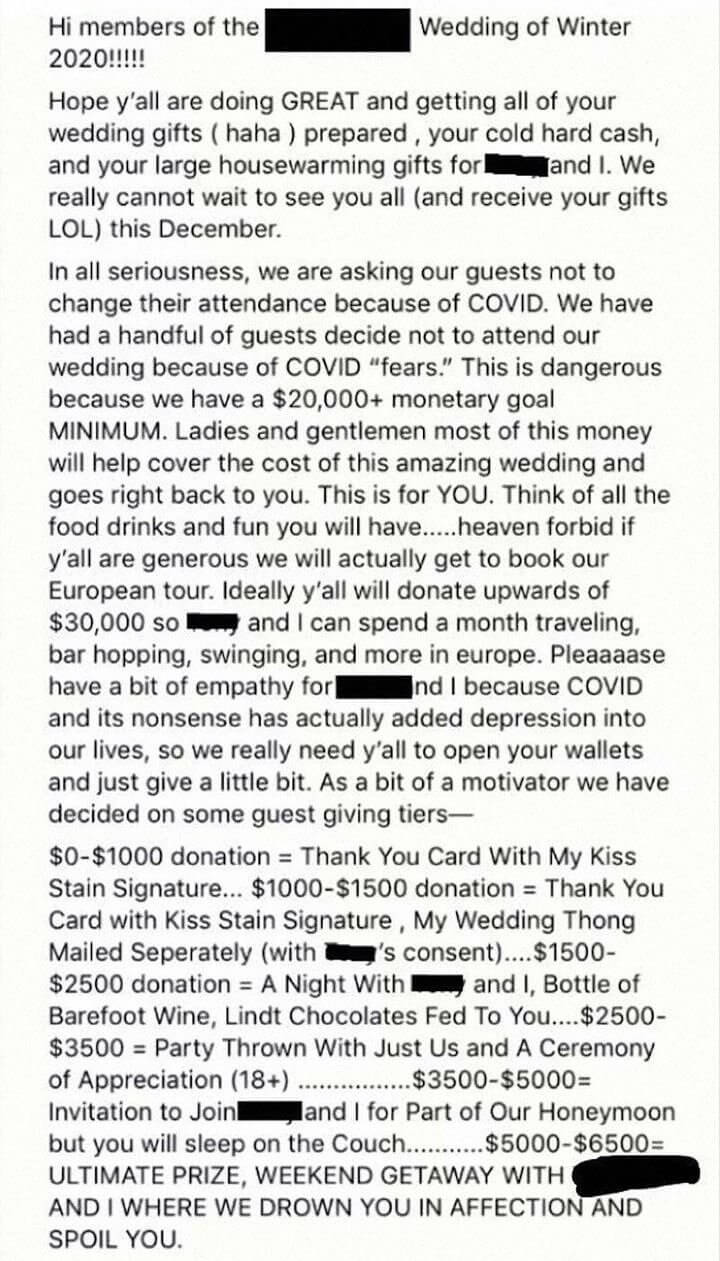 We wonder how this couple's close friends reacted when they saw this post. Where do you even start?
Not Going To Sugarcoat This
Susan's message to people who didn't shower her with money for her wedding is dark. After poetically expressing how her heart is broken, that she needs to get away from this cruel world, and dropping a couple of F-bombs, she calls her friends the C-word! She signs off her diatribe by saying she's cutting all of those 'snakes' out of her life but that she'll be back in two months. 
Why would she be back in two months, not three or six? We're sure nobody's going to miss her after this outrageous post!
The House of Gucci
This Bridezilla made a spreadsheet highlighting the $350+ gifts she expects from guests. On her outrageous list are Gucci purses, KitchenMaid blenders, a car, high-class paintings, and floor tiles for her entire house! She will accept $400 in cash or gift cards if you can't afford a car. Seriously, what is wrong with people? Does getting married turn you from Miss Jekyll into Mrs. Hyde, or does it just bring out your true colors?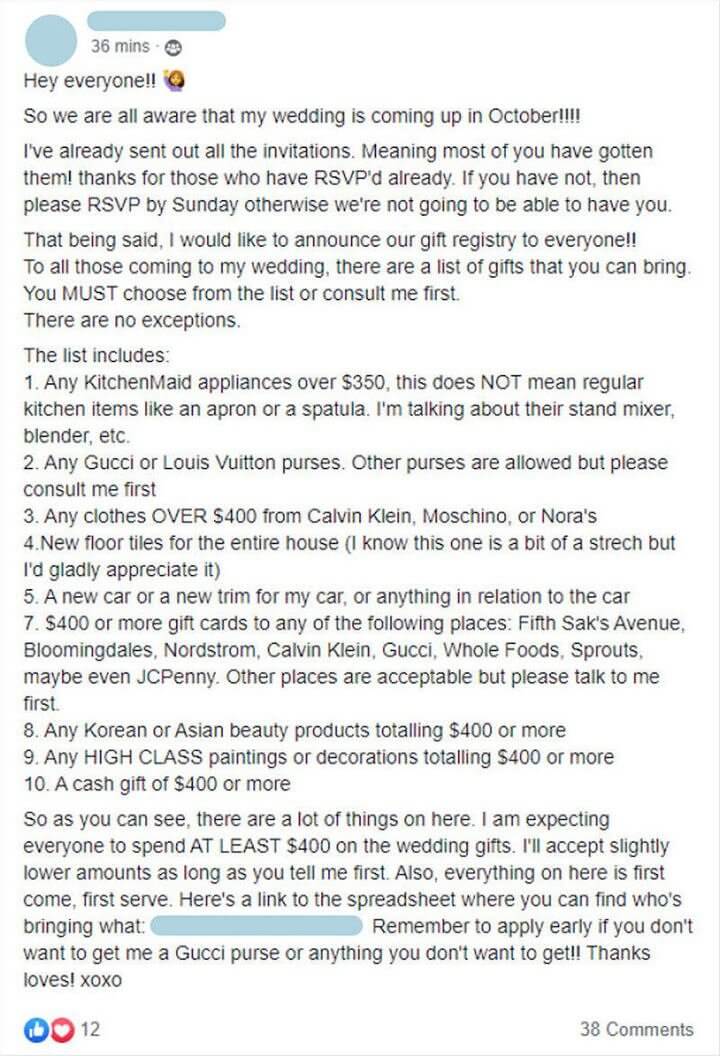 In fairness, a few privileged guests can contact her to let her know they will be spending less than the required amount. Can't afford $400? We're sure $395 will do just fine! 
How To Save Money At Your Wedding
We know weddings are expensive already, but this bride took to social media to rail against an innocent videographer whose only crime was offering their standard daily rate. After explaining that her dog was acting as the ring bearer and that she barely had enough money to make a tie for her dog, she explained that she'd rather have a family member video the day instead of shelling out $2,000.
To save extra money, her cat acted as the priest, her maid of honor was a trash can and the best man was a coconut with a face painted on it. 
Trying to Make a Quick Buck
This future bride met a random stranger at another wedding, so when her original bridesmaid dropped out, she invited the random stranger to be her bridesmaid. The reason? The future bride explains to the woman she'd met once that she gave this other bride and groom a generous gift and hoped she'd do the same for her. When she politely declined, this ballsy bride-to-be dared to go a step further!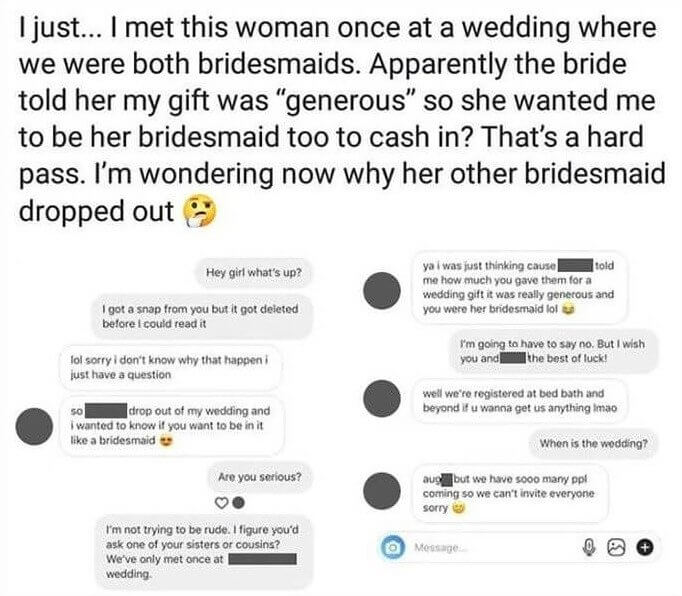 Then she asked the woman she'd met once for a wedding gift from Bed, Bath, and Beyond before telling her she wasn't invited to the wedding as too many people were already coming. 
Divine Intervention
When it comes to outright audacity, this couple from Florida takes the (wedding) cake! Instead of hiring a venue, they invited their friends and family to participate in a crime! Citing divine intervention, they picked this mansion as their dream venue, sent out invitations, and presumably booked a priest. But there's just one tiny detail they forgot... like asking the property owner for permission to get wed on their grounds.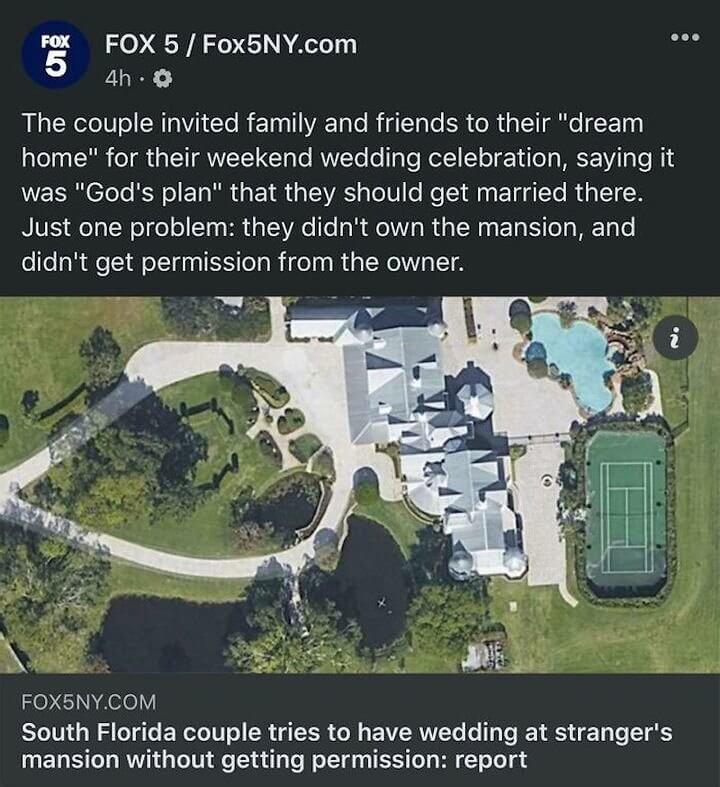 This Bonnie and Clyde duo probably then went on a Disneyland and bank robbing honeymoon in a car they stole from the priest.
There's No Such Thing As A Free Ride
While most of our entries are about Bridezillas, we have some Groomzillas, too! This entitled groom asked his friends to borrow a car for his wedding day, but when the offers started coming in, nothing was good enough for him. When one friend offered their Tesla model 3, he suggested they trade it in for a model X. The aforementioned friend quite rightly shot back with, "You don't need to be a d**k about it"!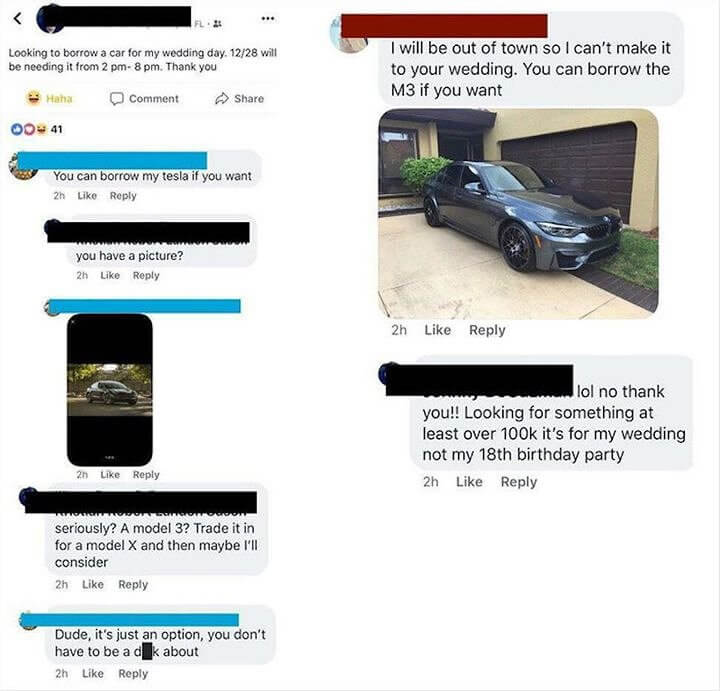 Then, when another friend offered their M3, this Groomzilla showed his true colors by stating he needed to borrow the car for his wedding, not his 18th birthday. What's the phrase... beggars can't be choosers?
Influence This
Social media has spawned a whole new entitled race of influencers. While it's okay if you're a Kardashian, Jenner, or Cristiano Ronaldo––who, after a 20-year-career at the top of his game, has amassed 465 million Instagram followers; it's not okay for this lowly money-grabbing influencer to expect free products for their wedding. In return, they would generously tag the small, independent designer. Gee, thanks!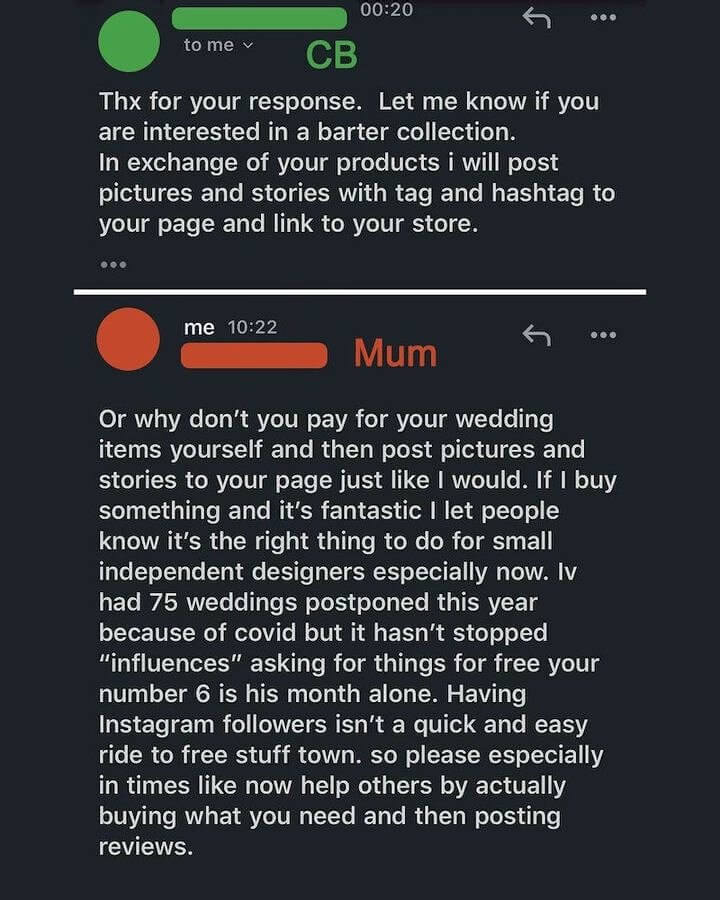 As the company owner explains in a putdown so calm and cool it's almost unnoticeable, "Having Instagram followers isn't a quick and easy ride to free stuff town." Yeah, you tell 'em, sister!
This Wedding List Reads Like Hostage Demands
On their long list of hostage demands, this bride and groom request $500 gifts, more $100 gifts, and $50 gifts for every party they organize. Guests must also promise to host a get-together in their honor at a proper party venue. Oh, and if you can't attend any of the parties, you get sued! We're surprised they didn't also ask for a getaway driver, a pizza, and a helicopter with a full tank of fuel.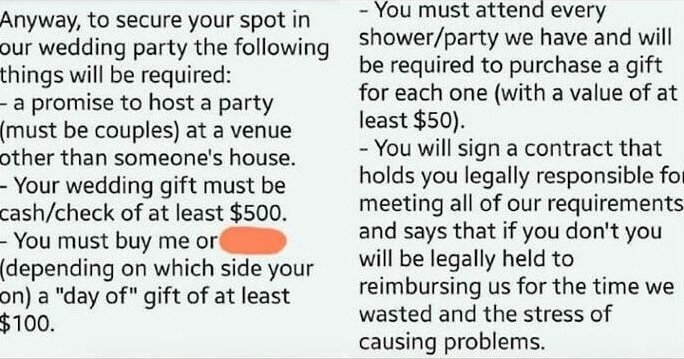 Never mind getting to the church on time, the only place this bride and groom should be headed is the loony bin!
Should They Tell Her or Not?
We can't believe people like this actually exist. When this bride's friend and bridesmaid was sadly stricken with cancer, she considered uninviting her from the wedding because her hair was thinning. She went on to say that her friend's appearance may distract from her big day, and she feels her friend's thinning hair just won't fit with the look she's going for! Is she for real? Do people really behave this way?
Where's the compassion? Luckily, one of the friends immediately expressed their shock, so we don't have to!
The Proposal Wasn't Spectacular Either
Getting engaged is like a dream come true for most girls. After ten years, this poor man nervously got down on one knee to pop the question. But maybe he shouldn't have bothered! His fussy girlfriend wanted a yellow diamond ring, so when he presented his grandmother's diamond family ring, it just wasn't up to scratch. And neither was his proposal, by the sound of things! She hates the ring and doesn't know what to do.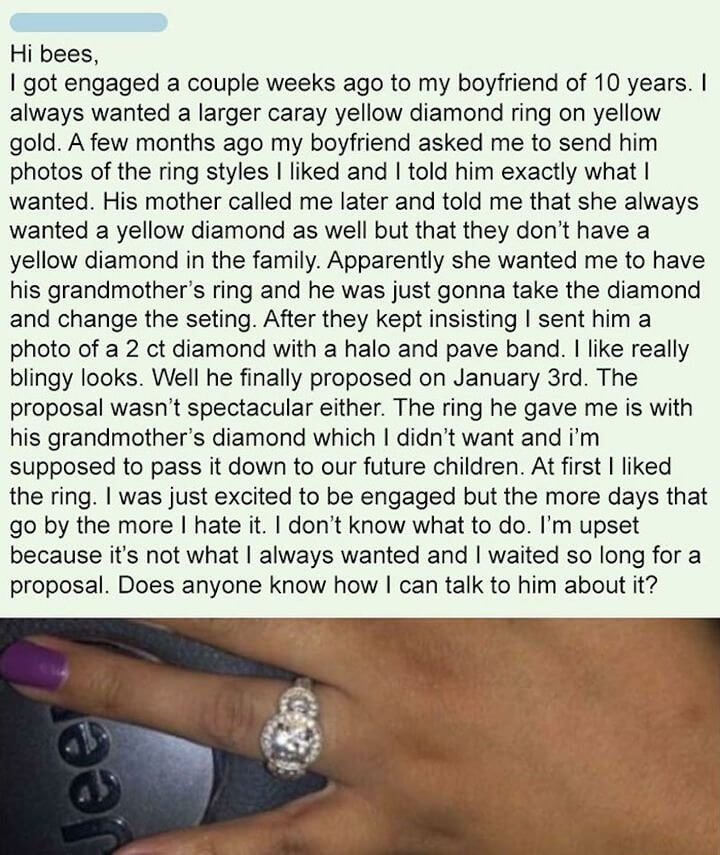 Don't you just hate it when your fiancee gives you a treasured family heirloom... that you can't stand the sight of! What do you think happened? Are they still together, or has this fiancee made off with another mother-in-law's prized heirlooms?
She Nearly Had Us
This bride might be is a narcissist. How do we know? Well, because her post asking for a florist to provide their time, energy, and experience for free is so well-worded that it's almost convincing! She expects a fully-trained florist to work for free in exchange for gaining valuable experience in a new unique field! Only at the end does she find a new, unique way of saying you won't get paid!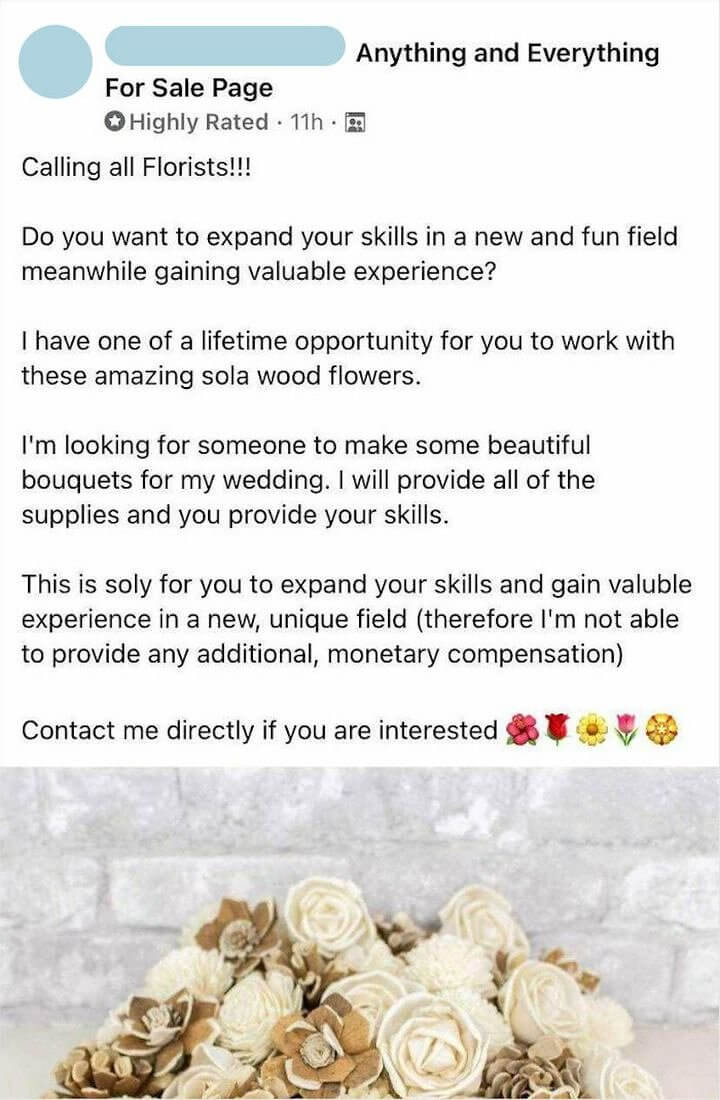 Another way of saying "new unique field" would be the bride explaining, "I'm totally ripping you off, here!" To be fair, her word salad is pretty convincing! 
She Wanted a Fresh Slate so Everybody Had to Chip in
When people turned up at her engagement party with gifts instead of cash, they not only ruined this bride-to-be's night, it was all their fault that she was furious for most of the next day. In fairness, if she specified cash over gifts, she maybe has the right to remind people, but there's a right way and wrong way of doing things... which explains why she received some pretty rude replies!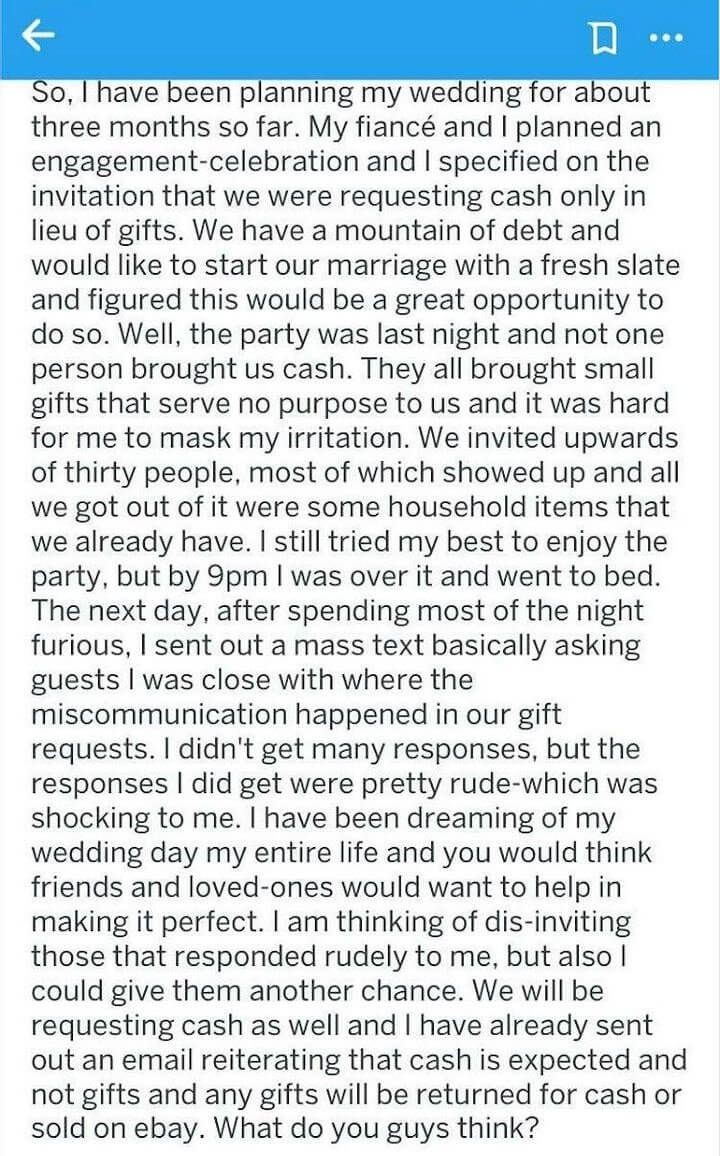 Seriously, if you're in that much debt, maybe focus on getting yourselves out of debt and saving up for a few years before making the decision to walk up the aisle. 
Know Your Worth
When this amateur photographer who was a friend of a friend turned out to be a student, this brazen bride told them to skip school in return for $100 and some finger food. Luckily, this fellow was a conscientious student and declined the offer, instead recommending some professional photographers who would gladly provide their services for the going rate of $600. When she saw the professional rate, the bride's response was priceless.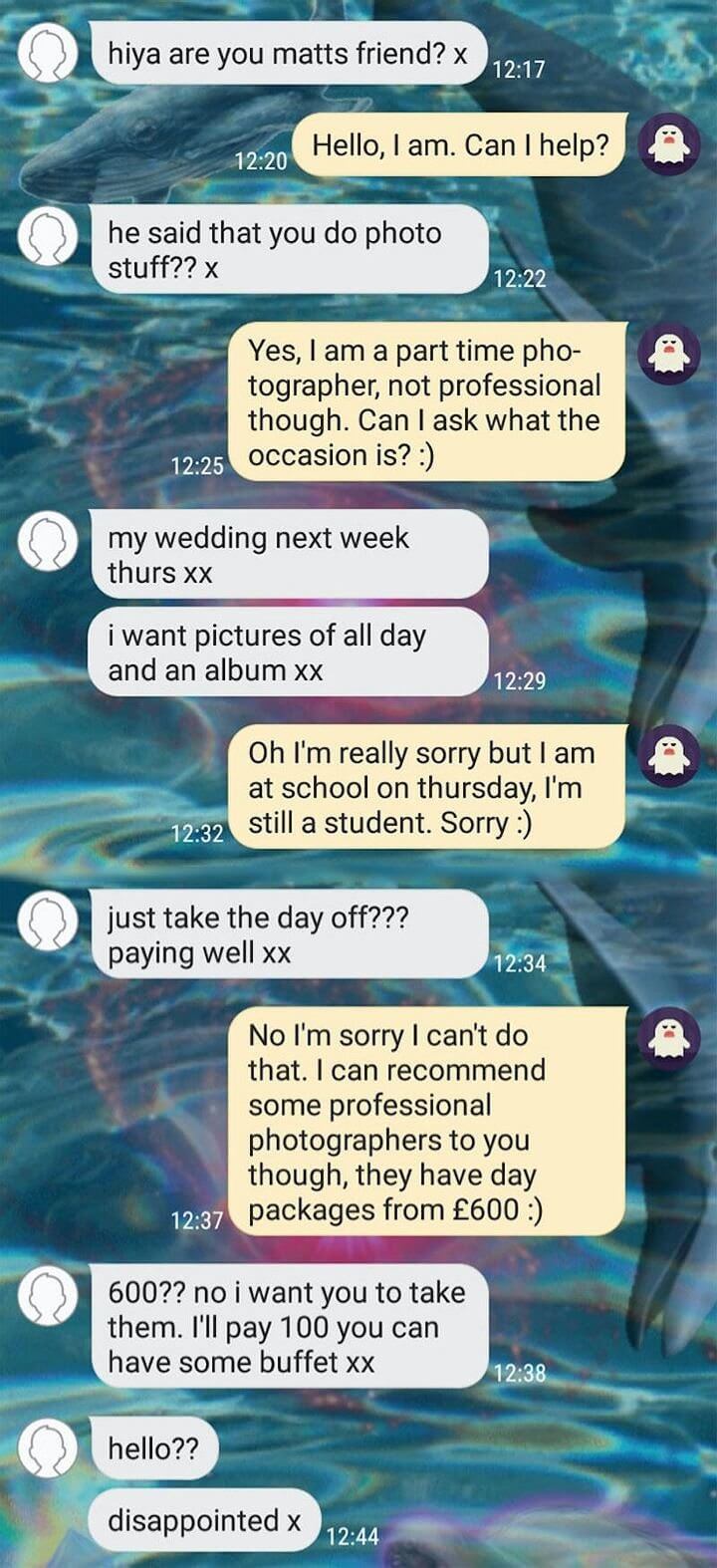 The kid might have been young, but they are already stacked with business acumen as they deservedly ghosted the bride. Looks like this photographer has the skills to pay the bills. 
Sorry, Not Sorry
We've seen some rude wedding invites, but check out this wedding uninvite! The bride and groom have clearly gone through their guest list and scratched a whole host of names off. While having to take names off your wedding list is unfortunate, people will understand with a politely worded explanation. But then this entitled couple has the barefaced audacity to uninvite people and then still ask for a donation towards their honeymoon!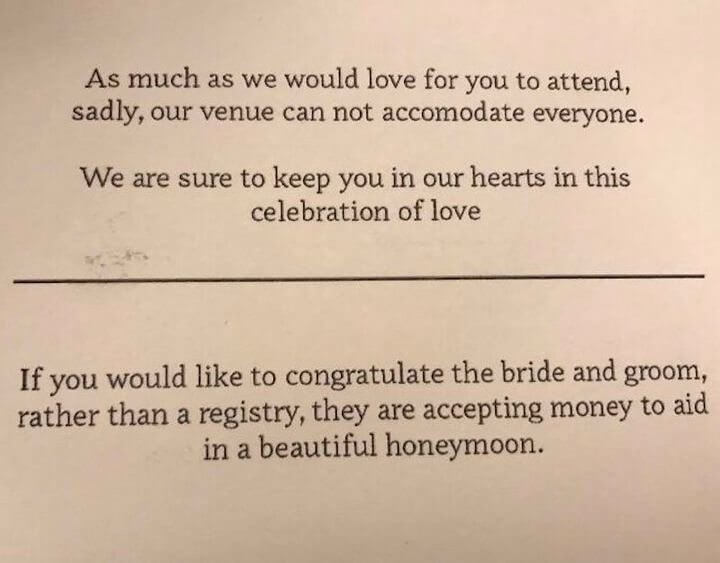 This strongly sends the message, "You're not important enough to come, but your money's still good."
The Passive-Aggressive Bride-To-Be
This passive-aggressive bride insists all her bridesmaids' dresses will only be available in a size 8, so they better hit the gym! Guests with short hair must have hair extensions, cut their nails short, and not have a fake tan. She has, after all, been planning her big day since she was in diapers. And going by her list of demands, it sounds like she should still be wearing diapers!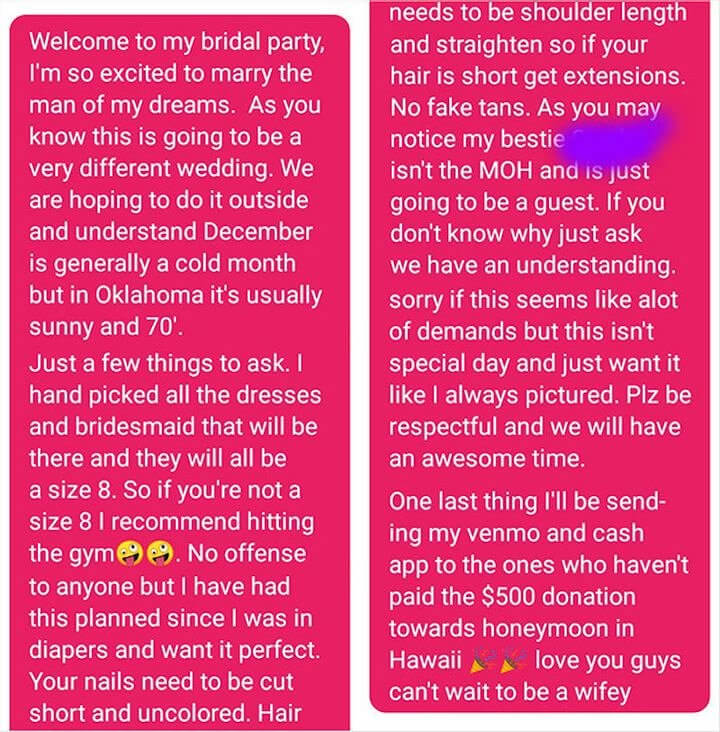 In addition to the cost of your new gym membership, don't forget the $500 donation/entry fee so she can swan around Hawaii having fun and drinking all day... at your expense! 
Can't Have Your Cake and Eat It, Too
Firstly, who leaves ordering their wedding cake until the last minute? Secondly, who thinks a master baker/cake decorator can rustle something like this up in a couple of days? And finally, when hearing a behemoth like this cake can't be prepared on such short notice, who insults them by calling them a beginner? But respect where it's due––the baker's simple, four-word response, "Have a good night," is just perfect.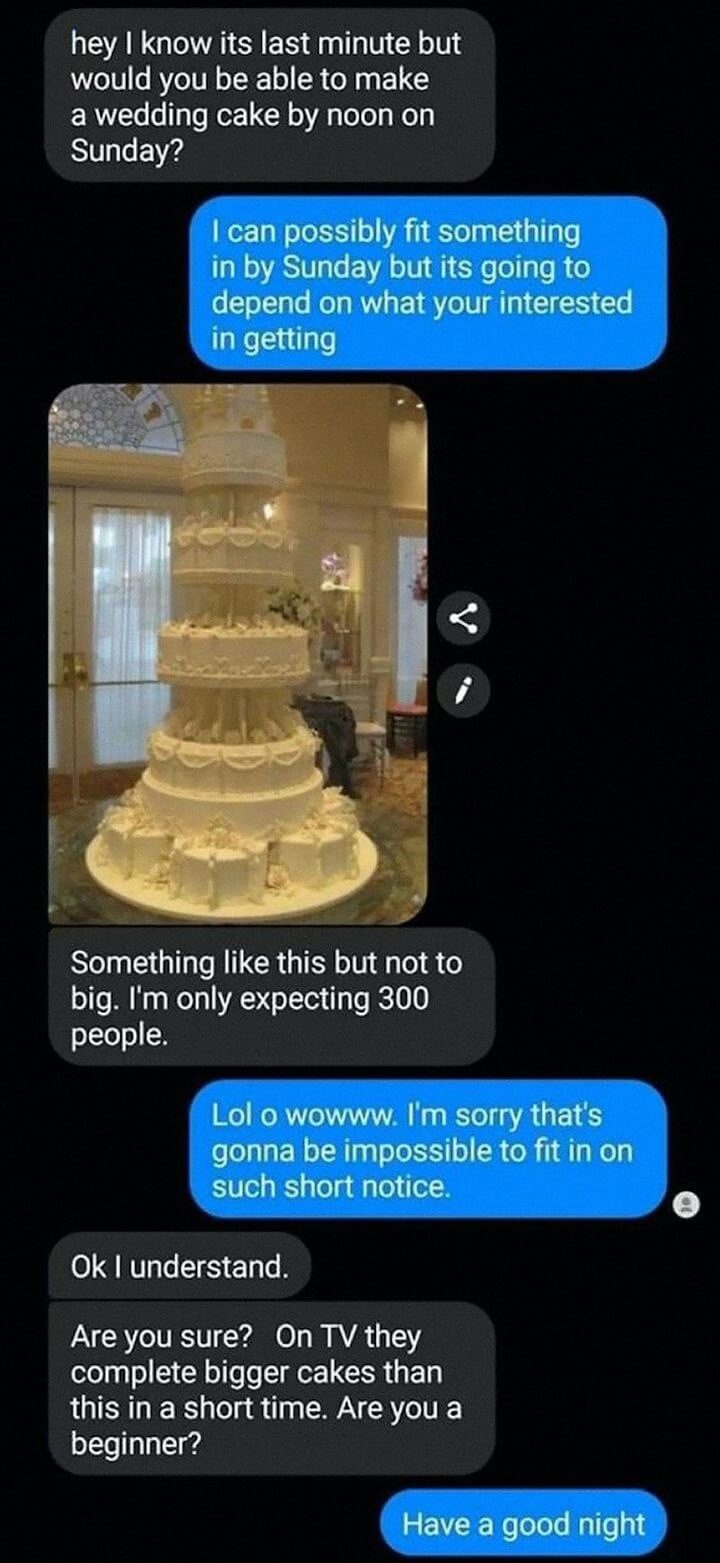 Have you ever thought the phrase "You can't have your cake and eat it, too" is the wrong way around? Well, that's because it is. It was originally, "You can't eat your cake and have it, too"––which makes much more sense––but was changed around 1750. 
Money For Nothing
This musical artist was more than happy to write and perform a song for a bride for the price they quoted, but once again, this bride expected a creative person to work for free. Would you walk into Subway and ask for a free sandwich? How about a car dealership and asking for a free car? No, it seems that this phenomenon is usually reserved for creatives; photographers, musicians, and the like.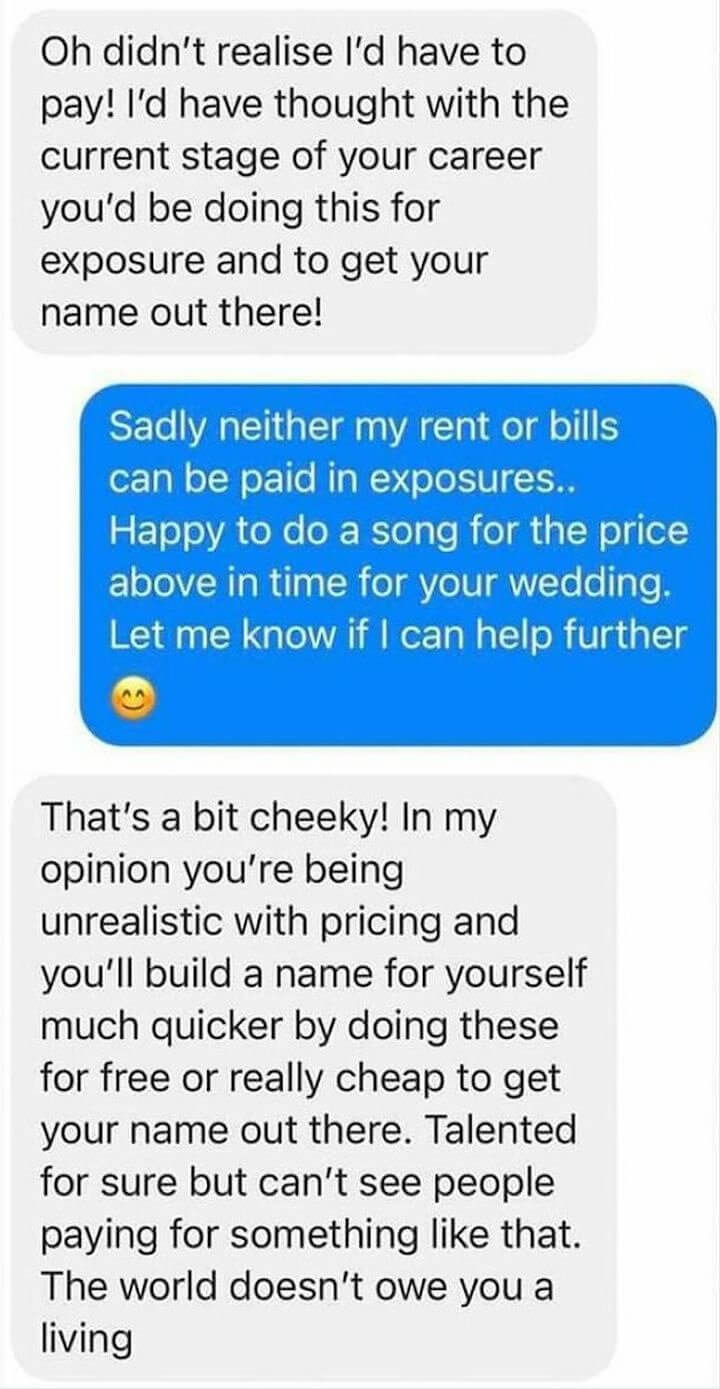 After passive-aggressively insulting the musician, Her Majesty the Bride even dares to sign off by saying, "the world doesn't owe you a living." People in glass houses shouldn't throw stones. 
Wedding Coordinator Drama
A few rules for wedding guests help things run smoothly, like arriving early and not wearing white, so the bride doesn't feel upstaged. Fair enough. But this wedding ceremony coordinator goes the whole hog with a crazy list of do's and don'ts. The bizarro list includes only wearing a bob or ponytail, not wearing a full face of makeup, not checking in on Facebook, and not speaking to the bride.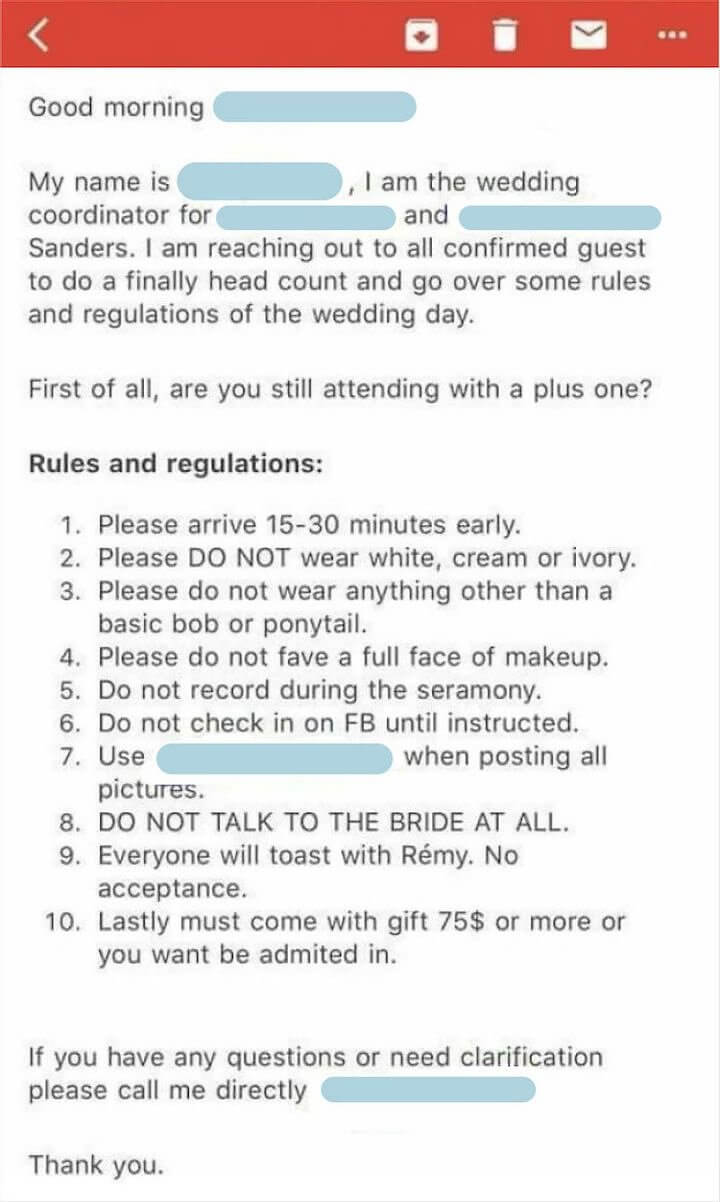 Of course, it ends with bringing a gift worth more than $75, or guests will not be "admited in" If only they could coordinate their spelling as well as they can coordinate their wedding! 
Budget Wedding Of The Century
Here's another photographer's tale of losing out on a gig because the bride and groom didn't want to pay full whack. For a 12-hour shoot and another 24 hours of editing, they offered a very reasonable rate of $400. When the bride (or groom, as her message doesn't specify) yelled at them, they offered the usual correct words of wisdom... if you don't want to pay, use your smartphone.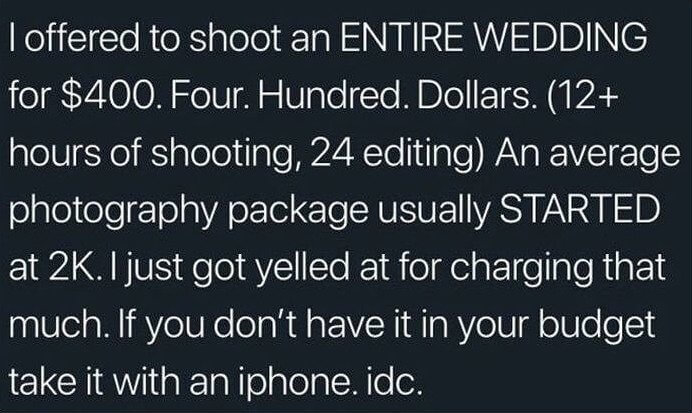 Is it too rude to say that we hope that all of your out-of-focus portrait format snaps look as cheap as the rest of your dollar shop wedding day?! 
Is She the Only One
This blonde bombshell bride firmly pins the blame on her "braid made" for having the audacity not to ask her what toenail polish she should wear to the wedding. From the looks of things, the last thing she should have done was turn up with her wearing Mad Red Devil Burning In Fiery Hell toenail polish. But, unfortunately, she did. And it was the last thing she ever did!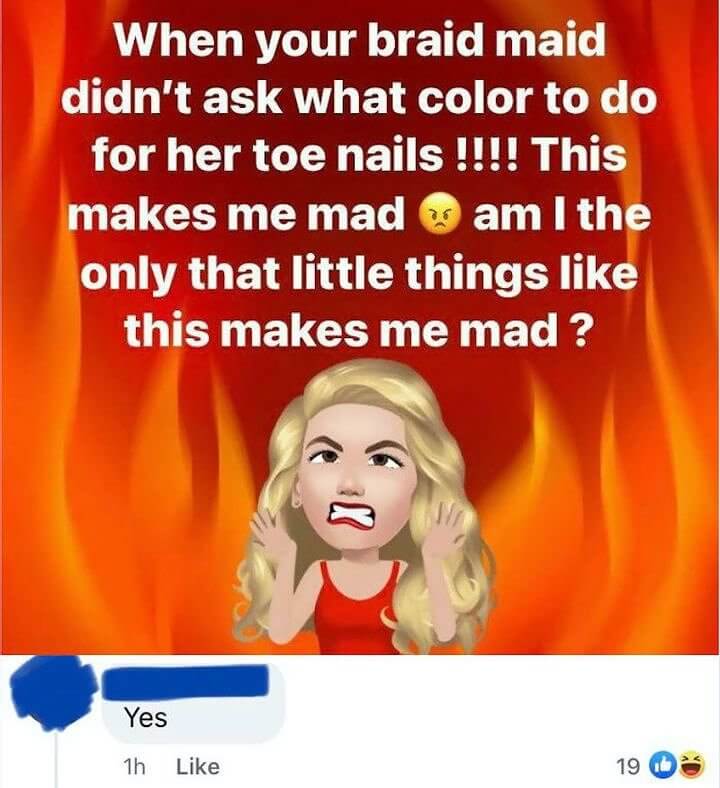 The super angry bride took to social media to vent her frustration, but the best part is that dozens of people replied, telling her yes... she was the only one who got mad at this kind of thing. 
Best Fiends Forever
This entry is completely and utterly unhinged! First, the bride expected her photographer friend to pay her $50 for the honor of taking snaps of her big day. And when the friend refused, the bride and her family sent her a barrage of hundreds of threatening text messages. We'd love to know what actually happened on the wedding day when the friend failed to show. More power to you, girl!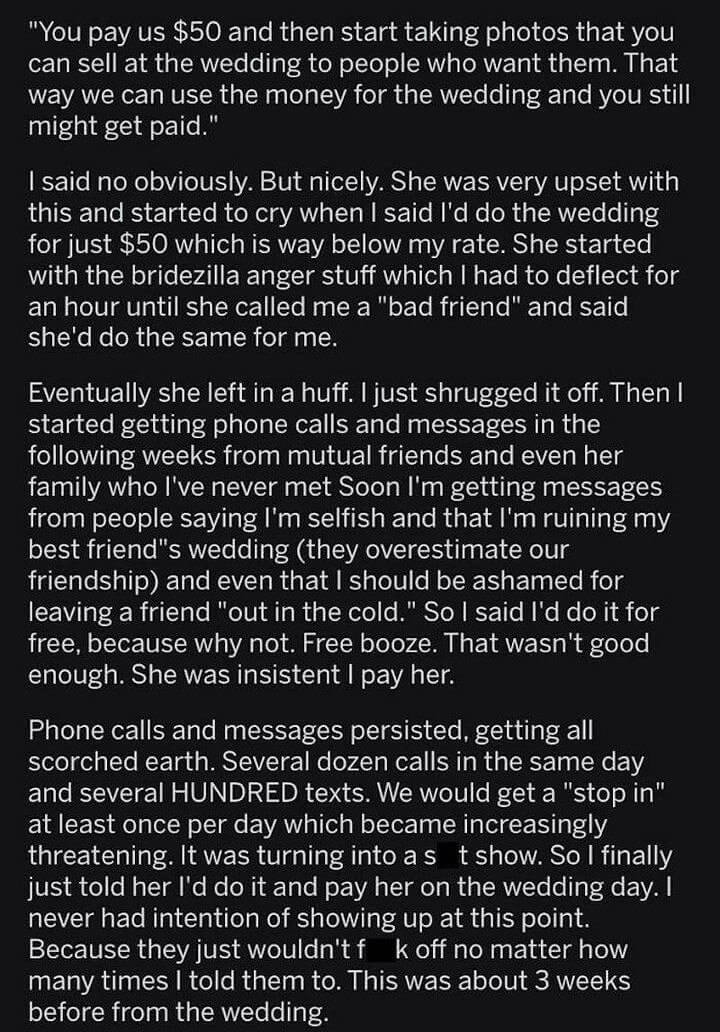 And this type of behavior should be seen as the ultimate red flag. If you're dealing with someone this toxic, you know what to do... just walk away and never contact them again! 
Conditional Love
This unusual wedding invite tells you everything you need to know about the bride. First, it comes with a request to bring a gift costing no less than $250. But, as Canadian philosopher Marshall McCluhan said, "the media is the message." Instead of spending money on proper wedding invites, the bride relies on her friend Mike to invite guests to her wedding. When Mike fails, she sends a text as an afterthought.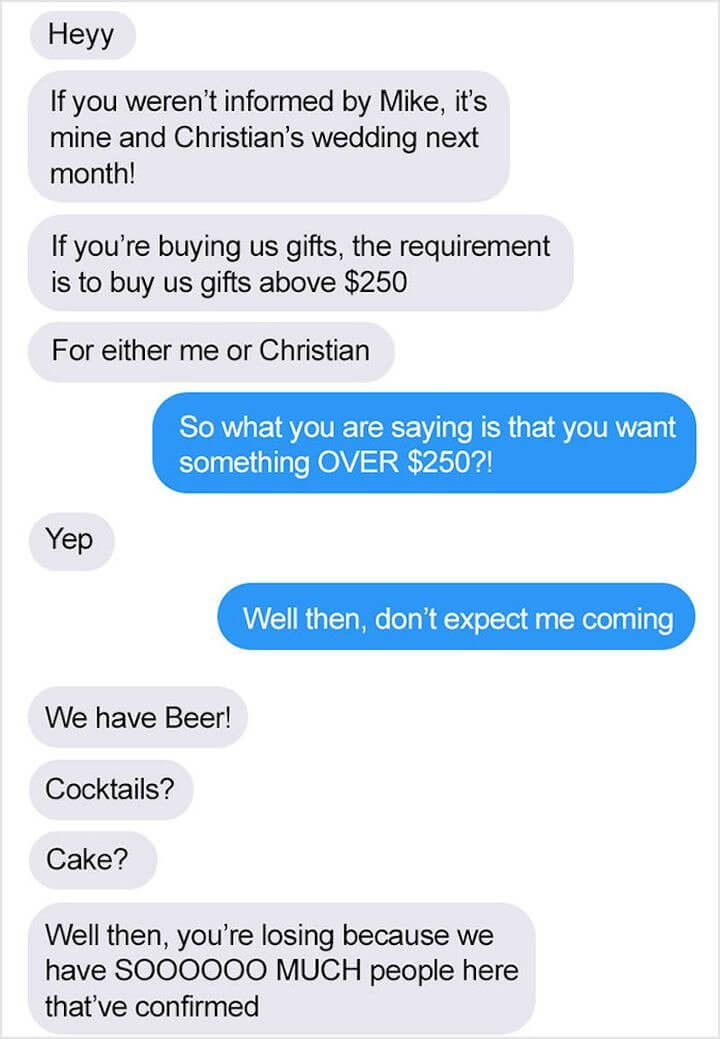 Then, she tries to bribe the invitee with promises of beer, cake, and cocktails. Next, she dares tell the invitee that it's their loss as "So much people" have confirmed. You mean "so many people," dear. 
She's One of Those Crazy People
This town clerk and future bride wants a STEAL OF A DEAL ON THE WHEELS OF STEEL! Yes, you lucky people, you too can spend several hours DJing for next to nothing before giving you enough free publicity to turn your business into a world-beater! She can't pay much, as she's already spent all her money on her dress, shoes, and decor, but she promises if your resumes, skills, references, and low quotes impress her...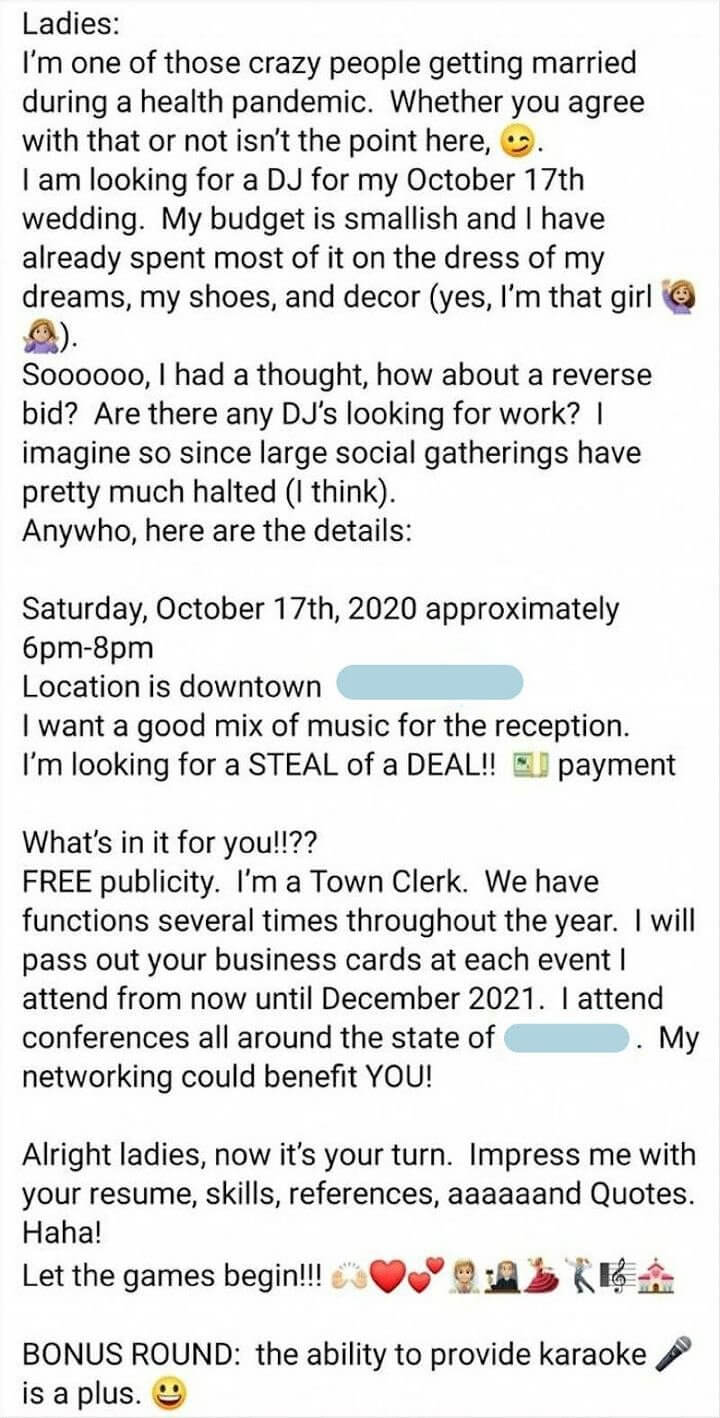 She will hand out your business cards to drunk people at events she's already planning on going to for the remainder of the year. Sounds like a bargain! 
Passive-Agressive at Its Finest
Yet another wedding photographer just wanted to secure a day's honest work, but when this bride realized she would have to pay the going rate, she went full-on Bridezilla. You see, becoming a Bridezilla isn't just getting angry; it can also take the form of thinking above your station. This bride seems to believe documenting her wedding will lead to more work for the photographer. But isn't that true of any wedding? What makes hers so special?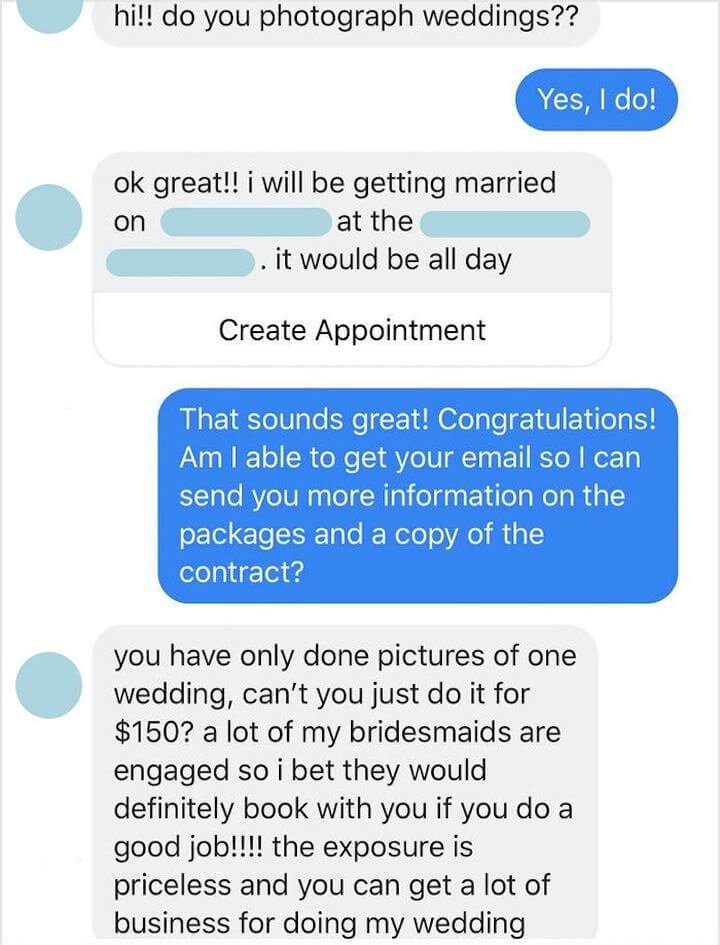 The answer is nothing. Zip. Zero. Zilch. Nada. She's no more special than anyone else. She just thinks she is! And that, friends, is what's wrong with the world... 
Nevermind Lulapalooza, This Is Lol-A-Palooza
Always the bridesmaid and never the bride? Don't have any friends? That's okay! For the minuscule price of $500, you too can sit at this fantastic bride and groom's wedding of the century! You can even be a bridesmaid or groomsman at our wedding for just one thousand American dollars. So, what are you waiting for? Sign up today for Lulapalooza and make your dreams of buying friends come true!
Terms and conditions: The bride and groom make no promises to acknowledge you and your plus one at any point. Your house is at risk if you don't pretend to have fun. 
Pay Up
This wedding invitee was happy to cordially RSVP to say she and her +1 would be delighted to attend their friend's wedding ceremony. Then, two short days later, they were hit with a "sweet voice mail" message thanking them for their reply and asking for $150 to pay for their wedding dinner! Seriously, what universe do some come from if they think wedding guests have to fork out for their own food?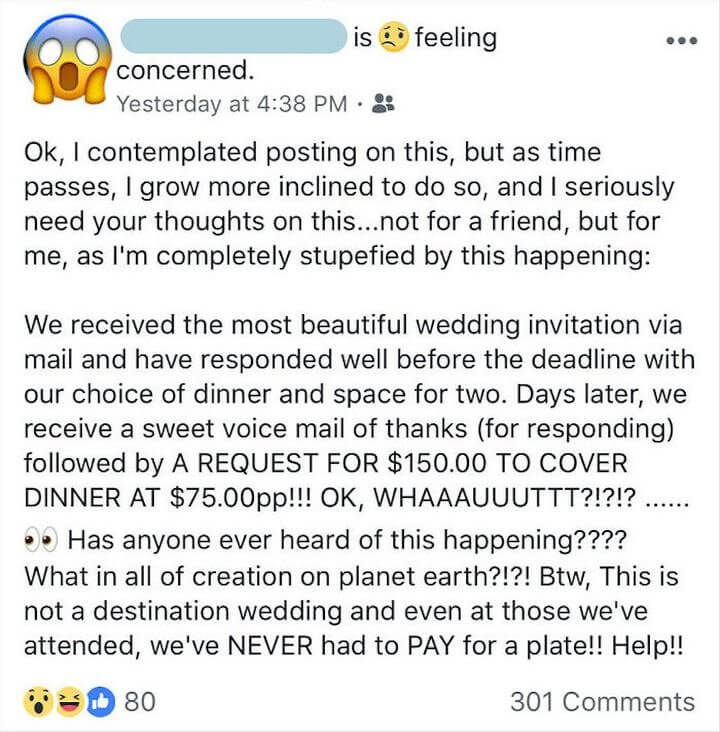 Expecting your wedding guests to pay anything for their meal is just plain rude, but $75 each? What are they eating? Eagle and gold leaf salad? Just give them a McDonalds Happy Meal and a flurry!
The Nerve Some People Have
This bride hosted her wedding ceremony and reception at a public camping area. So, if you wish to camp there on the weekend of June 18th-19th, she and her 50+ friends promise to make your life a living hell by setting up their raucous party around your camp, keeping you up til all hours blasting music and wafting hickory-flavored, meat-scented smoke into your tent and children's faces from a barbecue.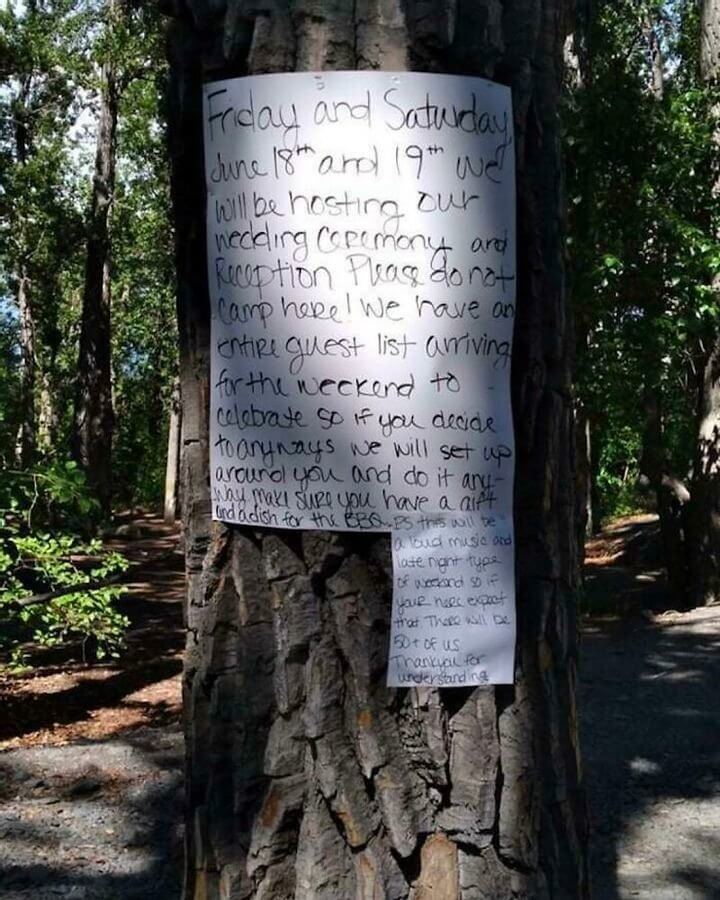 Have you ever thought that if perhaps you don't want people wandering into your wedding reception, then maybe, just maybe.... ya know... don't host it in a public space? No, thought not!